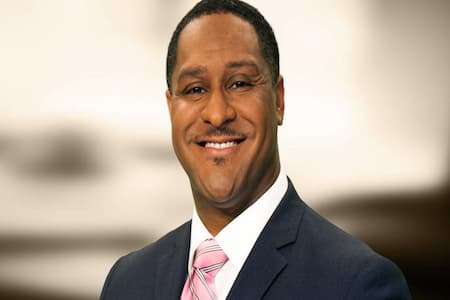 Josh Taylor Bio|Wiki
Josh Taylor is an American Award-Winning Sportscaster, Author, Speaker, and Entrepreneur. He is currently working as a sports anchor and reporter for KDKA-TV in Pittsburgh, PA.
Taylor is also a host of "The Sunday Morning Grind," Sundays 7-10 a.m. as well as the fill-in host for Pirates pre-game and post-game shows for Auducity Pittsburgh.
He previously worked as an On-Air Personality, and Producer-Trib Live Radio at Trib Total Media in Pittsburgh, He hosted the TribLive Radio Morning Show (July-September 2016), hosted TribLive Radio roundtable shows (Pirates, Penguins, fill-in host for Steelers Roundtable) as well as Pittsburgh Pirates and Pittsburgh Penguins pre-game shows.
Taylor is a recipient of two Associated Press awards for his work with the station's coverage of Arkansas Razorback football.
Josh Taylor Age
He was born in Pittsburgh, Pa., in The Hill District Area. Taylor is around 40 years old.
Josh Taylor Family
He was born to his parents in Pittsburgh and raised in the Hill District, in the shadow of the Civic Arena. Having seen his first Penguins game at seven years old, Taylor first fell in love with sports and got inspired to become a sports journalist.
Josh Taylor Education
Taylor graduated in 1999 from Schenley High School. He later received his Bachelor of Arts degree in Journalism and Multimedia from Duquesne University in 2008.
Taylor worked as an anchor, reporter, and producer for a DUQ-TV News during his University years. He won a Telly Award in 2008.
Josh Taylor Kdka
Taylor joined the KDKA Sports team in 2015 as an anchor, reporter, and producer. He previously worked as the weekend sports anchor at KHBS-KHOG in Fayetteville, Arkansas.
Taylor began to create a small niche for himself in 2017 as the host of the Sunday Morning Grind on KDKA-FM, 93.7 The Fan.
Additionally, he announced local sports and did play-by-play and coloring commentary for Duquesne men's and women's basketball games and high school football. Taylor was added to the Duquesne Journalism and Multimedia Department's Wall of Fame in 2017.
He was also honored as one of the New Pittsburgh Courier's Men of Excellence. In 2008, Taylor started to find his bearings as a public speaker and emcee, He also co-hosted the Courier's Vann Media Awards Banquet with KDKA's own Mikey Hood as well as presented at the City League Hall of Fame induction ceremony.
Taylor has become increasingly involved in community outreach and volunteer work in his spare time. He also hosts and speaks at events for various organizations.
Taylor has been a member of the Young Professionals Board for Wesley Family Services since 2018. Moreover, he has worked closely with the Western Pennsylvania School for the Deaf.
Taylor hosted WPSD's An Evening in Edgewood helping them raise funds for their on-campus Children's Center. He has also participated in Dancing With the Pittsburgh Superstars as both a dancer and emcee.
In addition, Taylor hosts the annual Dancing With the Dukes event at Duquesne to support his brothers of Gamma Phi Fraternity. Taylor may be found on the diamond playing either 38-and-over baseball or softball during his free time. He also enjoys watching one of his favorite pastimes, professional wrestling.
Some of his Colleagues:
Rich Walsh-sport reporter
Jessica Guay-morning news anchor and reporter
Celina Pompeani-traffic reporter
Ron Smiley-meteorologist
Bob Pompeani-sports reporter
Meg Oliver – correspondent
Falicia Woody-meteorologist
Shelley Bortz-news reporter
Kristin Emery– meteorologist and freelancer
Royce Jones-news reporter and anchor
Jessica Guay-news anchor and reporter
Mary Ours-meteorologist
Ray Petelin-meteorologist
Briana Smith-morning reporter and weekend morning anchor
Andy Sheehan-investigative and enterprise reporter
Heather Abraham-anchor and reporter
Erika Stanish-weekend evening anchor
David Highfield-morning news anchor
Josh Taylor Height
He is a man of above-average stature and stands at a height of 5 ft 9 in (1,75 m).
Josh Taylor Wife
Josh is a married man to his dear wife, Priscilla. The pair is blessed with an adorable son Nathan. The family of three resides in Pittsburgh.
Josh Taylor Salary|Net Worth
Taylor has taken great pride in being a Jack of all trades. He works on-air on television and radio. Taylor has also co-authored his six books — each of them about Pittsburgh sports.
He receives an average salary of $756,892 annually from his journalism work. Additionally, Taylor has a net worth of $4.3 million which he has accrued from his many income-generating work.