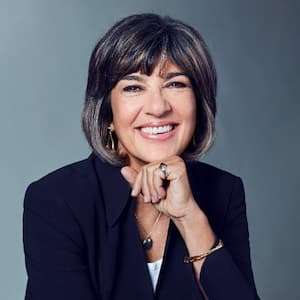 Christiane Amanpour Bio|Wiki
Christiane Amanpour is a British-Iranian Award-winning Chief International Anchor at CNN based in London. She is also the host of CNN International's nightly interview program Amanpour. Additionally, Amanpour also hosts Amanpour & Company on PBS.
Amanpour has won every major television journalism award including 12 News and Documentary Emmy Awards, 4 Peabody Awards, 2 George Polk Awards, 3 DuPont-Columbia Awards, and the Courage in Journalism Award. Moreover, she has received 9 honorary degrees, has been named a CBE, and was this year inducted into the Cable Hall of Fame. Amanpour is an honorary citizen of Sarajevo and a UNESCO Goodwill Ambassador for Freedom of the Press as well as the Safety of Journalists.
Christiane Amanpour Age
She was born Christiane Maria Heideh Amanpour on 12 January 1958 in Ealing, Middlesex, England. Amanpour is 65 years old.
Christiane Amanpour Parents
She was born to her parents in the West London suburb of Ealing and was raised in Tehran until the age of 11 when she moved to England.  Amanpour is the daughter of Mohammad Taghi and Patricia Anne Amanpour (née Hill). Her father was Shi'ite Muslim from Tehran, Iran while her mother was Roman Catholic.
Christiane Amanpour Education
Amanpour completed the larger part of her primary school education in Iran. She was later sent to a boarding school in England. Amanpour attended Holy Cross Convent, an all-girls school in Chalfont Saint Peter, Buckinghamshire. At the age of 16, she attended New Hall School, a Roman Catholic school in Chelmsford, Essex.
Amanpour graduated in 1983 summa cum laude and Phi Beta Kappa from the University of Rhode Island with a Bachelor of Arts in Journalism. While at the University of Rhode Island, she worked in the news department at WBRU-FM in Providence, Rhode Island. Amanpour also worked for NBC affiliate WJAR in Providence as an electronic graphics designer
Christiane Amanpour Cnn
Amanpour is the chief international anchor of CNN's award-winning program, Amanpour. The show also airs on PBS in the U.S. The "Amanpour" was launched in 2009.
She joined CNN in 1983 as an entry-level assistant on the international assignment desk at CNN in Atlanta.  Amanpour rose through the organization becoming a reporter at the New York bureau. She was later promoted to become a leading international correspondent for CNN.
Throughout her time at CNN, Amanpour did interviews with global power players including British Prime Minister Tony Blair, Pakistani president Pervez Musharraf, and Afghan President Hamid Karzai. Additionally, she conducted an Emmy-winning interview, the last, with Libya's former leader 'Colonel Moammar Gadhafi. Moreover, Amonpour was the last journalist to interview Egypt's President Hosni Mubarak just before he was deposed.
Amanpour is an active rights campaigner besides her work as an anchor and reporter. She is a board member of the Committee to Protect Journalists, the Centre for Public Integrity, and the International Women's Media Foundation. Amanpour has used her profile to raise awareness of key global issues and journalists' rights.
In addition, she has interviewed educational rights activist Malala Yousafzai for CNN on several occasions. Amanpour used an appearance on BBC television in May 2014 to raise awareness of the plight of the 200 Nigerian schoolgirls abducted by Boko Haram. She asked British Prime Minister David Cameron to join the #BringBackOurGirls campaign.
Colleauge;
Alisyn Camerota-anchor
Fredricka Whitfield-news anchor
Abby Phillip-senior political correspondent
Don Lemon-co-host
John Berman-news anchor
Christiane Amanpour Pbs
Amanpour replaced Charlie Rose on PBS after he was fired due to allegations of sexual misconduct. On 10 September 2018 her program, Amanpour & Company, premiered on PBS. She was aired on PBS stations, as Amanpour, from the time of Charlie Rose's departure from PBS until the new show premiered.
Amanpour has been doing the PBS daily program, Amanpour & Company, from her home in England Since 2020. This was a result of the COVID-19 pandemic and the program continues to be seen on television on PBS at many stations in various areas of the US, including at least 4 TV stations in the greater Los Angeles region of southern California.
Cnn Christiane Amanpour Ovarian Cancer
In April 2021, Amanpour went to her doctor in London for an annual screening and she was told she had an MRI, and a CT scan before more blood tests were done. She was diagnosed with stage 2 ovarian clear cell carcinoma on May 5, 2021.  Amanpour had major surgery followed ten days later by 18 weeks of chemotherapy. After completing her chemotherapy, Amanpour is already back in the field doing what she loves 6 months later.
Christiane Amanpour Husband
She was married to American James Rubin from 1998 to 2018. Rubin is a former US Assistant Secretary of State and spokesman for the US State Department during the Clinton administration. He was also an informal adviser to former US Secretary of State Hillary Clinton and to former President Barack Obama. Together with Rubin, Amanpour has a son, Darius John Rubin, who was born in 2000. Amanpour and Rubin announced they were divorcing in July 2018.
Christiane Amanpour Salary|Net Worth
Amanpour is a CNN Chief International Anchor. Host of CNN Int'l and PBS's nightly global affairs program. She has a net worth of $18 million and receives an average salary of $5 million annually.
Is Christiane Amanpour Married
Amanpour is the Chief International Anchor for CNN.  She is known for her fearless reporting style, often parachuting into conflict areas, and her emotional reports. Currently, Amanpour is not married and finalized her marriage with James Rubin in July 2018. She is currently living in London with her son Darius John Rubin.
Christiane Amanpour Twitter