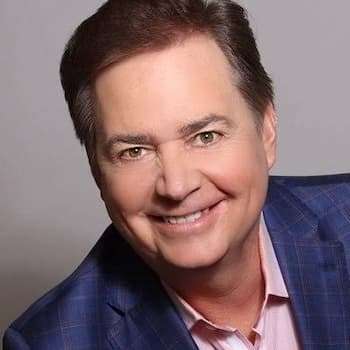 Bob Pompeani Bio|Wiki
Bob Pompeani is an American sports director and anchor at KDKA-TV in Pittsburgh, Pennsylvania. He is also Pre-season Play by Play Man Steeler Football for 19 years. He previously worked as a sports reporter for local sports and talk shows on WMBAI WBVP from 1978 to 1982. Notably, Bob has been recognized as Pittsburgh's Favorite Sportscaster in a Pittsburgh Post Gazette reader survey as sports director for KDKA-TV.
Additionally, Bob has won various broadcasting awards, including an Emmy for Play by Play, three Golden Quills,  and five Associated Press awards. He was also inducted into the Tri-State PGA Hall of Fame in 2000. Moreover, Bob was the first man to win the Pittsburgh Beauty Academy's Professional Image Award.
Bob Pompeani Age
He was born on April 11, 1960, in Hopewell, Virginia, United States. Bob is 63 years old
Bob Pompeani Family
He is the son of Patsy P. Pompeani and Virginia Mae (Jula) Pompeani. Bob has a brother Bruce Pompeani who is a jounalist. Bruce has worked as a reporter on different networks and is a recipient Associated Press award (2), 1994, and Golden Quill award Western Pennsylvania Association Broadcasters, 1995.
Bob Pompeani Education
He attended and graduated from Hopewell High School. After High school,  Bob attended and graduated from Point Park University with a Bachelor of Arts degree in Broadcast Journalism and a minor in Political Science. Additionally, he received an honorary doctorate degree from (and issued the commencement address at) Point Park University. as a result, Bob was awarded a Distinguished Alumni Award.
Bob Pompeani Kdka|Pittsburgh|Steelers
Bob joined his hometown KDKA-TV in 1982 from WMBAI WBVP where he worked from 1978 to 1982. He joined the network as a producer and within a couple of years, he had been promoted from reporter to the station's weekend anchor. Bob has conducted major interviews including Barry Bonds, Arnold Palmer, Mario Lemieux, and Ben Roethlisberger throughout his four decades at KDKA. Additionally, he has witnessed Pittsburgh's sports history made by being involved in the hall of fame induction ceremonies like Joe Greene as well as back-to-back Stanley Cups in 1991 and 1992. Bob began as a sideline reporter for Steelers preseason games. He donned the headset and started calling the games himself in just a few years. Bob has covered major sports moments including three Super Bowls for the Steelers and four more Stanley Cups for the Penguins. Bob has covered sports around the globe, including the Winter Olympics in Nagano, Japan, and the sunny shores of Hawaii for the NFL Pro Bowl. In addition, he has also visited 600 local high schools to present his Extra Effort Award to outstanding scholar-athletes. Bob is the host of Pittsburgh's top-rated sports talk show The #1 Cochran Sports Showdown. Moreover, he is also the host of The Subway Nightly Sports Call and also delivers television play-by-play for Steeler's preseason games. Bob works closely with the community during his free time. He is on the board of directors for the American Heart Association, Cystic Fibrosis Foundation, Partners for Quality Inc as well as Give the Kids the World Foundation. Since 1995, Bob has been on the Executive Committee for the Mario Lemieux Foundation. Additionally, he has served as Master of Ceremonies for the "Penguins at your Service" annual black-tie dinner for almost two decades.
His CBS News Colleagues:
Chris Hoffman-freelance reporter
Rich Walsh-sport reporter
Pam Surano-anchor and reporter
Adriana Diaz – national correspondent
Norah O'Donnell-correspondent and anchor
Shelley Bortz-news reporter
Celina Pompeani-traffic reporter
Rich Walsh-sports anchor and reporter
Jennifer Borrasso-reporter
Erika Stanish-weekend reporter
Bob Pompeani Dancing|TikTok
 Bob has enjoyed two things sports and cutting a rug just four months after creating an account, Bob is a local star on TikTok. He likes dancing and interestingly, TikTok offered that. Bob has therefore tried to promote sports through his videos.
He created his account in Novermber 2021 and since then he has used it to give the world a look at his true self. Bob sometimes posts about work, previewing what viewers can look forward to on his evening sportscasts as well as just having fun. He has also participated often with friends and family alongside him in TikTok's latest dance trends.
Bob Pompeani Wife
Bob has a beautiful wife, Lisa. The couple has two daughters, Chelsea and Celina. Together with his family. bob resides in Robinson Township. During his spare time, Bob enjoys playing golf and spending time with his family.
Bob Pompeani Daughter
Celina is a TV Host/Reporter & spokesperson and currently works as a Traffic Reporter on Pittsburgh's KDKA-TV. Celina Pompeani always knew she wanted to be in broadcasting having grown up watching her dad. She started her journalism career early at WTOV-9 in Steubenville, Ohio working as a Weekend News Anchor and General Assignment Reporter during her junior year of college. Celina has won awards including Mid-Atlantic Emmy Award for her weekly entertainment segment on the show called Pens Trends. In 2015, she was one of Pittsburgh's 50 Finest.
Bob Pompeani Salary|Net Worth
Bob is an outstanding veteran sports journalist. he was Honored as "Father of the Year" in 2011 and was Inducted into the PENNSYLVANIA Sports HALL OF FAME in 2015.  He is the 8-time winner of PA. Associated Press Award Steeler Pre-Season Football as well as 4-time Golden Quill Award Winner. He currently works as a sports anchor and sports director and receives an average of $1.3 million annually. Bob has an estimated net worth of $5.8 million amassed from his journalism career.
How Old Is Bob Pompeani
Bob is 63 years old and was born in 1960, in Hopewell, Virginia. He celebrates his birthday on April 11 with his lovely family and friends.
How Tall Is Bob Pompeani
Bob is a tall man and stands at a height of 5 ft 6 ft 1 in (1.85 m). He excelled in baseball, basketball, and football, however, his heart condition would require two open heart surgeries sidelined his athletic ambitions.