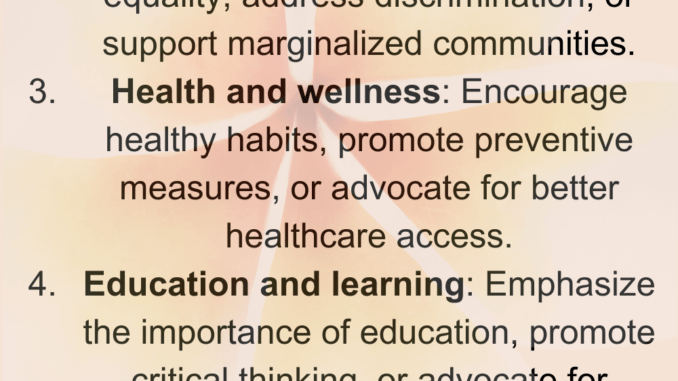 Mastering the Art of Persuasion: Using Words and Speech to Influence
Introduction
Persuasive speech is a carefully crafted message that aims to influence an audience to accept a specific viewpoint or take a particular action. It's an essential skill in various aspects of life, from public speaking to everyday conversations. Effective persuasive speeches can sway opinions, change minds, and inspire action.
Persuasive Speech Policy
Establish credibility and expertise: Convince your audience that you have the knowledge and experience to speak on the topic.

Clear and concise communication: Use simple language, avoid jargon, and ensure your message is easy to understand.

Logical and compelling arguments: Support your claims with evidence, facts, and statistics.

Appeal to emotions: Evoke feelings of empathy, concern, or excitement to connect with your audience.

Consider audience's perspective: Tailor your message to resonate with the audience's values, beliefs, and interests.
Ideas for a Persuasive Speech
Address a current issue: Choose a topic that is relevant and timely, capturing the audience's attention.

Highlight personal experiences: Share anecdotes, stories, or examples from your own life to make your message relatable.

Incorporate humor or storytelling: Engage your audience with entertaining elements to keep them engaged.

Emphasize the benefits: Clearly articulate the positive impact of your proposed solution or action.

Call to action: Provide specific instructions on what you want the audience to do or believe.
Topics on Persuasive Speech
Environmental protection: Advocate for sustainable practices or raise awareness about climate change.

Social justice issues: Promote equality, address discrimination, or support marginalized communities.

Health and wellness: Encourage healthy habits, promote preventive measures, or advocate for better healthcare access.

Education and learning: Emphasize the importance of education, promote critical thinking, or advocate for educational reforms.

Technology and innovation: Discuss the potential benefits of new technologies or raise concerns about their impact.
Good Topic for Persuasive Speech
A good persuasive speech topic should be both engaging and significant. It should spark the audience's curiosity while also addressing an issue that matters.
Banning single-use plastics: Highlight the environmental impact and promote sustainable alternatives.

Promoting gender equality: Advocate for equal pay, opportunities, and representation.

Supporting mental health awareness: Encourage open conversations, reduce stigma, and promote access to mental health resources.

Encouraging lifelong learning: Promote the value of continuous learning, skill development, and personal growth.

Embracing artificial intelligence: Discuss the potential benefits of AI in various fields while addressing ethical concerns.
Funny Topics for Persuasive Speech
Humor can be a powerful tool in persuasion. A well-placed joke or anecdote can break down barriers, connect with the audience on a personal level, and make your message more memorable.
Why cats are superior to dogs: Present humorous arguments in favor of feline companionship.

The benefits of procrastination: Offer a lighthearted perspective on the art of delaying tasks.

The importance of naps: Convince your audience of the restorative power of daytime slumber.

Why pizza is the perfect food: Highlight its versatility, variety, and ability to satisfy any craving.

The joy of awkward social interactions: Embrace the humor and relatability of awkward moments.
Persuasive Speech Subjects
The realm of persuasive speech subjects is vast and diverse. From education and healthcare to technology and environmental conservation, there's a topic that resonates with every speaker and audience.
The importance of preserving endangered species: Advocate for conservation efforts and raise awareness about the threats to biodiversity.

Promoting tolerance and understanding: Encourage acceptance of diverse cultures, perspectives, and beliefs.

Supporting ethical fashion practices: Raise awareness about the environmental and social impact of the fashion industry.

Encouraging financial literacy: Promote responsible financial habits, budgeting, and saving.

Advocating for responsible pet ownership: Encourage responsible pet care, adoption, and preventing animal cruelty.
Persuasive Speech On
When crafting your persuasive speech, don't be afraid to get specific. Provide concrete examples, data, and statistics to support your arguments and make your message more compelling.
The importance of voting: Encourage civic engagement and participation in the democratic process.

Promoting cyber safety and digital citizenship: Educate about online safety, responsible social media use, and protecting personal information.

Supporting local businesses and communities: Encourage shopping local, supporting small businesses, and contributing to community development.

Enhancing mental health education in schools: Advocate for comprehensive mental health education and support programs in schools.

Promoting responsible artificial intelligence development: Discuss ethical considerations, transparency, and accountability in AI development.
Persuasive Speech Outline
Introduction:
Capture attention with an engaging opening
Introduce the topic and its significance
Establish your credibility and expertise
Body:
Present your arguments in a clear and logical order
Use evidence, facts, and statistics to support your claims
Appeal to emotions and connect with the audience
Address potential counterarguments or objections
Conclusion:
Summarize your main points and restate your call to action
Leave a lasting impression with a memorable
Examples of Persuasive Speeches
History is filled with examples of powerful persuasive speeches that have shaped the course of events. Some notable examples include:
Martin Luther King Jr.'s "I Have a Dream" speech
Nelson Mandela's inauguration speech
Malala Yousafzai's speech to the United Nations
Emma Watson's speech at the UN HeForShe campaign
Ruth Bader Ginsburg's speech at the National Law Institute for Women
How to Master the Art of Persuasion
The art of persuasion is the ability to influence others to think, feel, or act in a certain way. It is a skill that can be used in all aspects of life, from business to relationships to politics.
There are a few key things that you can do to master the art of persuasion:
Know your audience. What are their needs and values? What are their objections to your argument? Tailor your message to your audience in a way that will resonate with them.
Have a clear and concise message. What is your main point? What do you want your audience to do after hearing your speech? Make sure your message is clear and easy to understand.
Use evidence and logic to support your argument. Don't make claims that you can't back up with evidence. Use facts, statistics, and expert testimony to support your points.
Be passionate and enthusiastic. People are more likely to be persuaded by someone who is clearly passionate about their message. Speak with conviction and enthusiasm, and let your personality shine through.
Practice, practice, practice. The more you practice, the better you will become at persuasive speaking. Practice delivering your speech in front of a mirror or with a friend or family member.
How to Master a Persuasive Speech
Here are some additional tips for mastering a persuasive speech:
Start with a strong introduction. Grab your audience's attention and introduce your topic in a way that will make them want to listen to more.
Use storytelling. People love stories, so use them to illustrate your points and make your speech more engaging.
Use humor. A well-placed joke can help to lighten the mood and make your audience more receptive to your message.
Use visuals. Visuals such as charts, graphs, and images can help to make your speech more informative and persuasive.
End with a call to action. Tell your audience what you want them to do after hearing your speech. Whether you want them to sign a petition, donate to a charity, or simply vote for you, make sure they know what you want them to do.
Conclusion
Persuasive speaking and debating are essential skills for influencing opinions and driving change. By understanding the audience, organizing speeches effectively, and crafting engaging introductions, individuals can captivate their listeners. Utilizing compelling evidence, addressing counterarguments, employing effective delivery techniques, and mastering rebuttal and refutation enhance persuasive communication. These skills empower individuals to advocate for their ideas, sway opinions, and leave a lasting impact through the power of persuasive speaking and debating.
Persuasive Speech Topics
Here are some persuasive speech topics that you may find interesting and engaging:
Social and political issues:

Should voting be mandatory?
Should we legalize recreational marijuana?
Should we abolish the police?
Should we invest more in renewable energy?
Should we have a universal basic income?

Education:

Should all students be required to learn a foreign language?
Should we abolish standardized testing?
Should we make college tuition free for everyone?
Should we have a shorter school year?
Should we have more vocational training programs in high schools?

Technology and media:

Should we regulate social media more strictly?
Should we ban self-driving cars?
Should we have a right to be forgotten online?
Should we tax robots?
Should we subsidize the development of new technologies?

Health and wellness:

Should we ban unhealthy foods from schools?
Should we have a universal healthcare system?
Should we make mental health services more accessible?
Should we legalize euthanasia?
Should we invest more in preventive healthcare?

Environmental issues:

Should we ban single-use plastics?
Should we put a price on carbon emissions?
Should we invest more in public transportation?
Should we protect more land as national parks?
Should we have a zero-waste policy?
When choosing a persuasive speech topic, it is important to consider your own interests and expertise, as well as the interests of your audience. You should also choose a topic that is controversial enough to generate interest, but not so controversial that you will alienate your audience.
Once you have chosen a topic, you need to do your research and develop a strong argument. Your argument should be based on evidence and logic, and it should be clear and persuasive. You should also be prepared to answer any objections that your audience may have.
Finally, you need to practice your speech and deliver it with confidence. Be sure to make eye contact with your audience and speak clearly and slowly. You may also want to use gestures and facial expressions to engage your audience.
Powerful Words
Powerful words are words that evoke strong emotions, such as happiness, sadness, anger, or fear. They can also be words that are persuasive or motivating. Powerful words can be used in a variety of contexts, such as advertising, marketing, public speaking, and writing.
Here are a few examples of powerful words:
Positive words: love, joy, peace, happiness, hope, success, inspiring, beautiful, amazing, grateful, fortunate, blessed
Negative words: hate, anger, sadness, grief, fear, anxiety, pain, suffering, loss, failure, disappointing
Persuasive words: you, free, new, limited time, guaranteed, exclusive, proven, amazing, results, easy, fast, quick
Motivational words: can, will, do, achieve, succeed, overcome, unstoppable, powerful, capable, worthy, amazing, destined.
Powerful words can be used in a variety of contexts, including:
Advertising and marketing: Powerful words are often used in advertising and marketing to persuade people to buy products or services. For example, a car commercial might use words like "excitement," "power," and "luxury" to make people want to buy a new car.
Speechwriting: Powerful words are often used in speeches to inspire, motivate, and persuade people. For example, a politician might use words like "freedom," "equality," and "justice" to rally people to their cause.
Creative writing: Powerful words can be used in creative writing to create a strong emotional response in the reader. For example, a poet might use words like "love," "loss," and "beauty" to evoke strong emotions in the reader.
When using powerful words, it is important to be mindful of the context in which you are using them. You should also be careful not to overuse powerful words, as this can make your writing or speech less effective.
Here are some tips for using powerful words effectively:
Be specific. Don't just say "good"; instead, say "excellent," "superb," or "magnificent."
Use vivid imagery. Help your audience to visualize what you are talking about by using descriptive language.
Be passionate. Speak with conviction and enthusiasm.
Be authentic. Use words that are true to yourself and your message.
Additional tips for using powerful words effectively:
Choose the right words for your audience and context.
Use powerful words sparingly and strategically.
Be mindful of the emotional impact of your words.
Use powerful words to paint a vivid picture in the reader's mind.
Use powerful words to create a call to action.
Related Articles;
Nurturing Emotional Intelligence in Arguments
Mastering the Art of Winning Arguments
Conflict Resolution and Negotiation Skills
The Power of Logical Reasoning and Critical Thinking
Mastering Effective Communication Strategies
Unraveling the Influence of Cognitive Biases in Arguments