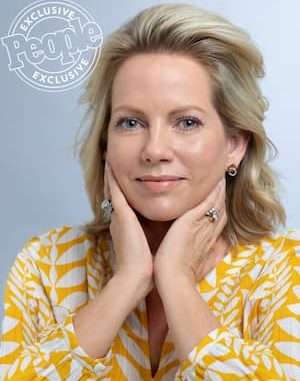 Shannon Bream Bio|Wiki
Shannon Bream (Shannon Noelle Bream) is an American journalist and the anchor of Fox News @ Night and Chief Legal Correspondent for the Fox News Channel. She is also an attorney who appears on Fox News Channel and she has covered numerous political campaigns, landmark Supreme Court decisions, and Washington scandals.
Previously, Shannon served at local affiliates WFTS (ABC) in Tampa, FL, WBTV (CBS) in Charlotte, NC, and WRC-TV (NBC) in Washington, DC. She is a former Miss America 1991 and Miss USA 1995 contestant. In addition, Shannon was a lawyer specializing in sexual harassment and race discrimination cases before entering the world of media. When she is out of the office,  Shannon loves fly fishing, running, and reading. She also enjoys traveling the world with her family.
Shannon Bream Age
She was born on December 23, 1970, in Tallahassee, Florida, United States. Shannon is 52 years old.
Shannon Bream Family
She was born Shannon Noelle DePuy to her parents in Florida. Shannon grew up with her parents who convinced her anything was possible. Additionally, their lives were modest, however, they believed in the power of education, hard work, and faith.
Shannon Bream Education
She graduated magna cum laude in 1993 from Liberty University in Lynchburg, Virginia with a degree in Business Management. Furthermore, Shannon earned a Juris Doctorate with honors from Florida State University College of Law.
She interned in the US House of Representatives with Florida Congressman Bill McCollum. Later, Bill becomes the Florida Attorney General. Notably, Shannon won the Miss Florida USA pageant (1995) and placed fourth in the Miss USA 1995 pageant while at law school at Florida State. In addition, she also won her scholarship awards from Miss USA pageants paid for her law school education
Shannon Bream Fox News|Show
She joined the FOX News Channel in 2007 and covered the Supreme Court as a Washington D.C- based correspondent. Shannon worked as an anchor of FOX News Channel's FOX News @ Night with Shannon Bream. She is also a Chief Legal Correspondent at FOX News. Additionally, Shannon is a host of Livin' the Bream which is a podcast on FOX News Radio (FNR). In the podcast, she shares inspirational stories, personal anecdotes, and an insider's perspective on actions and rulings from the high court.
Shannon began her career in Tampa, Florida as a lawyer specializing in race discrimination and sexual harassment. She made a career change to pursue a career in television news from the legal profession. Shannon became the evening and late-night news reporter in 2001 for the CBS affiliate, WBTV in  Charlotte, North Carolina.  She later moved to Washington D.C.'s NBC affiliate WRC-TV in 2004 after 3 years at WBTV.  There, Shannon worked as a weekend anchor and covered general assignments.
Shannon's colleagues at Fox News
David Spunt – correspondent
Julie Banderas – news anchor
Brian Kilmeade – anchor and host
Lawrence Jones – political commentator and contributor
Raymond Arroyo – contributor
Guy Benson – contributor
Rick Reichmuth – chief meteorologist
Sophia Minnaert-reporter
Mike Emanuel – chief Washington correspondent
Harris Faulkner – anchor
Shannon Bream Miss America 1995
During her college years at Liberty University in Lynchburg, Virginia, she won the pageant title Miss Virginia in 1990. Moreover, Shannon later participated in the Miss America 1991 pageant and won a scholarship award that covered much of her undergraduate education.
Additionally, Shannon was the first-ever female keynote speaker for commencement at Liberty University on May 11th, 2013. She also practiced corporate law in Tampa, FL. In 1999, Shannon was selected in a competition for ABC's Politically Incorrect. Notably, she won Miss Florida in 1994 and Miss Virginia in 1990.
Shannon Bream Book
Shannon publishes an imprint of FOX News Media and she is the founding author of FOX News Books. According to Bookscan in 2021, her debut title, The Women of the Bible Speak: The Wisdom of 16 Women and Their Lessons for Today was the 13th bestselling book in adult nonfiction. Additionally, it spent 15 weeks on the New York Times bestseller list, five of which were at number one.
Shannon published her second book in March 2002 in the franchise, Mothers, and Daughters of the Bible Speak. It rose to number one on the New York Times bestseller list, moving 200,000 copies within the first five weeks.  Moreover, she is the author of three books:
 Finding the Bright Side: The Art of Chasing What Matters
The Women of the Bible Speak: The Wisdom of 16 Women and Their Lessons for Today,
 and The Mothers and Daughters of the Bible Speak: Lessons on Faith from Nine Biblical Families.
Notably, Shannon's book The Women of the Bible Speak: The Wisdom of 16 Women and Their Lessons for Today reached the number one spot on The New York Times Best Seller list.
Shannon Bream Husband Cancer
In January 2020, Shannon opened up about her husband being diagnosed with a brain tumor when he was 24 years old. She noted that Sheldon,  her husband was a college athlete, very healthy and strong and he'd had an ear problem like a ringing in his ear for a long time. It was for everything, ear infections and all kinds of stuff however the doctors said they needed to rule one thing out as it was a long shot. When the test came back and the doctor said that Sheldon had a brain tumor which was about the size of a golf ball and it had to be removed.
Sheldon underwent a nine-hour surgery to remove the tumor. Thanks to God the tumor was removed, however, he had a complication in that all of the swellings from the brain surgery crushed some of his facial nerves and he ended up with severe paralysis. At the time, Shannon was in law school and together with Sheldon, they were still starting their lives together,  engaged to be married. her husband recovered and thank God he is good and no more return of that.
Shannon Bream Religion
She is a Christian and has leaned on her faith and found hope in the toughest parts of life. From being fired from her first Television job to living with a disease that left her in chronic pain. Shannon believes there are lessons to be learned and joy to be discovered through life's greatest challenges. Notably, Shannon is trained as a classical pianist.
Shannon Bream Height
She is a woman of above-average stature and stands at a height of 5 ft 7 in (1.7 m). In addition, Shannon has body measurements of 34, 30, and 34 and weighs 59 kg (130.07 lbs).
Shannon Bream Husband
She is married to her husband Sheldon Bream. Shannon first met in college and they tied the knot in  1995. Sheldon is the brother of a retired MLB (Major League Baseball) player named Sid Bream. Shannon and her family live in Washington, DC.
Shannon Bream Salary|Net Worth
She is a television news anchor, reporter, attorney, and beauty pageant contestant. Shannon has worked for Fox News since 2007 and began hosting the prime-time show "Fox News @ Night" in 2107.  She earns a salary of $3 million annually. In addition, Shannon has a net worth of $10 million which she has accrued from her different careers from being an attorney, journalist, and author.
Who Is Shannon Bream
Shannon is a Florida native and television news anchor, reporter, and attorney at Fox News Channel. She is also a beauty pageant contestant and a former Miss America finalist. She is  52 years and a wife to Sheldon Bream.
Is Shannon Bream Married
Shannon is a married woman Sheldon and the pair have been together since 1995. Shannon and Sheldon have not revealed about their children and we will update you later. They live happily together in Washington, DC.