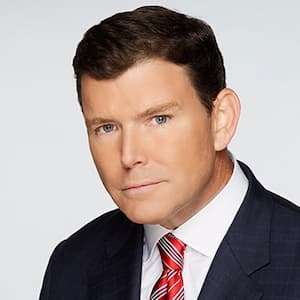 Bret Baier Bio|Wiki
Bret Baier is an American journalist and Author. He is currently the host of Special Report with Bret Baier on the Fox News Channel. Baier is also the chief political correspondent for Fox. Previously, Bret served as the network's Chief White House Correspondent and Pentagon correspondent. Before joining FNC, Baier had worked for WRAL-TV (CBS 5) in Raleigh, NC, WREX-TV (NBC 13) in Rockford, IL, and WJWJ-TV (PBS 2) in Beaufort, SC.
His most recent was co-anchoring FNC's 2022 Midterm election coverage. Baier also moderated a one-hour policy debate between Sen. Lindsey Graham (R-SC) and Sen. Bernie Sanders (I-VT) for The Senate Project, a diverse new coalition between the Bipartisan Policy Center, the Orrin G. Hatch Foundation and the Edward M. Kennedy Institute.
Baier also provided live breaking news coverage surrounding Russia's invasion of Ukraine earlier in 2022. He as well interviewed Ukrainian President Volodymyr Zelensky, Ukrainian Foreign Minister Dmytro Kuleba as well as former Secretary of State Henry Kissinger.
Bret Baier Age
He was born William Bret Baier on August 4, 1970, in Rumson, New Jersey, U.S. Baier is 52 years old.
Bret Baier Family
Baier was born to a family of mixed German and Irish origins in Rumson, New Jersey. He was raised Catholic and served as an altar boy in his youth. Baier practices Roman Catholicism and attends Holy Trinity Catholic Church in Georgetown.
Bret Baier Education
He attended and graduated from Marist School in 1988. The school is a private Roman Catholic high school in Atlanta, Georgia. Baier furthered his education at the methodist DePauw University in Greencastle, Indiana. He graduated in 1992 with a BA degree in political science and English. While at DePauw, Baier became a member of the Xi Chapter of the Sigma Chi fraternity.
Bret Baier On Fox News
Baier is the FOX News Channel (FNC) anchor and executive editor of Special Report with Bret Baier. He also serves as the chief political anchor of the network and a host of FOX News Audio's "The Bret Baier Podcast" which includes Common Ground, The Campaign, The Candidates, and The All-Star Panel. Baier joined as the first reporter in the Atlanta bureau in 1998 at FOX News Channel and is now based in Washington, DC.
Since joining the FOX News Channel, Baier has played a critical role in every major political event. He has covered major political events including the 2020 presidential debates, Democratic and Republican National Conventions as well as the 2021 one-hour election special entitled, Democracy 2021: Virginia Showdown with The Story's Martha MacCallum.
Baier has also interviewed prominent politicians including President Barack Obama, President George W. Bush, Vice President Dick Cheney, and  Hillary Clinton to discuss her book, "Hard Choices" and the 2016 presidential election.
Before becoming an anchor, Baier served as chief White House correspondent in 2006. He covered the second term of the George W. Bush administration. Prior to that role, Baier worked served as a national security correspondent covering military and national security affairs, as well as defense, military policy, and the intelligence community from the Pentagon.
Colleagues;
Matt Finn-national correspondent
Maria Bartiromo-news anchor
David Asman-news anchor and journalist
Alicia Acuna-Senior Correspondent
Jon Decker-Jon Decker
Ainsley Earhardt-co-host of the morning news show
Jesse Watters-Conservative political commentator
Sean Hannity-conservative political commentator
Tucker Carlson-conservative political commentator, and author
Bret Baier Books
Baier is the author of 4 New York Times Best-Sellers, Three Days in January, Special Heart: A Journey of Faith, Hope, Courage, and Love, Three Days in Moscow: Ronald Reagan and the Fall of the Soviet Empire, as well as  Three Days at the Brink: FDR's Daring Gamble to Win World War II which was released in October 2019. His most recent book, To Rescue the Republic: Ulysses S. Grant, the Fragile Union, and the Crisis of 1876 was released in 2021.
Bret Baier Height
Baier is tall in stature and stands at a height of 5 ft 10 in (1.8 m).
Bret Baier Wife
Baier is happily married to his wife Amy. The couple is blessed with two amazing sons, Daniel and Paul. Baier's son, Paul, was born with cardiac problems. In 2008, his son underwent open-heart surgery. President George W. Bush invited Baier and his wife and son to the Oval Office for a visit and had the White House physician update him on Paul's progress. Baier was named a "Significant Sig" in 2009 by the Sigma Chi Fraternity.
Bret Baier Salary|Net Worth
Baier currently serves as FOX News Channel's (FNC) chief political anchor and anchor of Special Report with Bret Baier based in Washington, D.C. The show is the highest-rated cable news program in its timeslot and consistently one of the top five shows in cable news. He joined the network in 1998 as the first reporter in the Atlanta bureau. Throughout his decades-long career, Baier has amassed quite an impressive income and has an estimated net worth of $60 million with an average salary of $7 million annually.
Who Is Bret Baier Wife
Baier is a loving husband to his wife Amy and both have two sons, Daniel and Paul. The couple tied the knot on October 9, 2004, and has been other since then. The family of four currently resides in Washington, D.C.