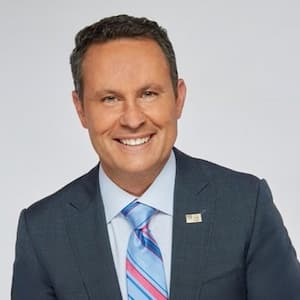 Brian Kilmeade Bio|Wiki
Brian Kilmeade is an American journalist and author. Currently, he works as an anchor and host at Fox News in New York City. He co-hosts the morning show, Fox & Friends, On weekdays. In addition, Brian is a host for the Fox News Radio program The Brian Kilmeade Show. He also hosts One Nation with Brian Kilmeade, on weekends which commenced on January 29, 2022.
Previously, Brian worked as a freelance reporter and anchor for NEWSPORT TV. Over and above that, he is an author and has authored or co-authored non-fiction and fiction books.
Brian Kilmeade Age
He was born on May 7, 1964, in Massapequa, New York, United States. Brian is 58 years old.
Brian Kilmeade Family
He was born in 1964 to his wonderful parents in Massapequa, New York. Brian is the 2nd son of Marie Rose D'Andrea and  James Kilmeade Junior. In addition, his father, James, was born in 1931 while his mother, Marie, was born in 1934 in Ozone Park and raised in St. Albans, Queens. However, there is no information if Brian has another sibling but we will update you if it emerges.
Brian Kilmeade Education
He graduated in 1982 from Massapequa High School. Furthermore, Brian attended LIU Post in Brookville, New York. He graduated in 1986 with a Bachelor of Arts degree in Communications from Long Island University.
Brian Kilmeade  Show|Fox News
Brian joined FNC as a sports reporter in 1997. In 1998, he was named to the FOX & Friends role which he has continued since then. Brian co-hosts the weekdays morning FOX & Friends along with Steve Doocy and Ainsley Earhardt. In addition, he is the host of One Nation with Brian Kilmeade on weekends at Fox News.
Prior to joining Fox News Channel's new team, Brian worked as a freelance reporter and anchor for NEWSPORT TV. There, he anchored ScoreboardCentral which is a live half-hour general sports program. Brian joined the WVIT in Hartford, Connecticut as a freelance sports anchor in 1997. He also worked as a sideline reporter for MSG's coverage of Major League Soccer, specifically for the MetroStars.
Brian has interviewed hundreds of newsmakers in politics, celebrities, and athletes during his television and radio tenure. He has interviewed former President Trump, former President George W. Bush, Sen. Tim Scott (R-SC), former Republican presidential candidate, and now Utah Sen. Mitt Romney among many others. In addition, Brian covered twenty Super Bowls with FOX News Media throughout his career.
Brian Kilmeade Radio Show
Brian also serves as host of The Brian Kilmeade Show on weekdays from 9 AM to 12 PM/ET. The show is a nationally syndicated 3-hour radio program on FOX News Audio. Additionally, he is the host of What Made America Great and America: Great from the Start on FOX News Media's streaming service FOX Nation.
His radio program is among the most popular offerings on FOX News Audio. The program is with over two hundred and fifty terrestrial radio affiliates nationwide. Moreover, his daily show podcast currently has nearly two million unique listeners.
He started his journalism career on Channel One, a daily national high school television news program, as a correspondent. Brian later moved to KHSL-TV in Chico, California as an anchor and host. In addition, he co-hosted an all-sports radio network "The Jim Brown Show" on KLSD. Moreover, Brian joined Jim Brown in 1993 as part of the announcing team for the inaugural Ultimate Fighting Championship event and conducted post-fight interviews. In 1994, Brian later moved into the play-by-play role for UFC 2 and UFC 3.
Brian's colleagues at Fox News
Shannon Bream – anchor
David Spunt – correspondent
Julie Banderas – news anchor
Sophia Minnaert-reporter
Lawrence Jones – political commentator and contributor
Raymond Arroyo – contributor
Guy Benson – contributor
Rick Reichmuth – chief meteorologist
Mike Emanuel – chief Washington correspondent
Harris Faulkner – anchor
Brian Kilmeade Book
Over and above that, Brian is the exceptional author of multiple New York Times bestselling books. His books include;
The President and the Freedom Fighter,
Sam Houston and the Alamo Avengers,
Andrew Jackson and the Miracle of New Orleans: The Battle That Shaped America's Destiny,
George Washington's Secret Six,
The Games Do Count: America's Best and Brightest on the Power of Sports,
and "It's How You Play the Game: The Powerful Sports Moments That Taught Lasting Values to America's Finest.
Brian Kilmeade Height
He is a man of above-average stature, Brian stands at a height of 5ft 9 in (1.75 m).
Brian Kilmeade Wife
He is married to his supportive wife Dawn Kilmeade (née DeGaetano). The couple exchanged marriage vows and wedded on December 3, 1993. Together, the pair have three adorable children Brian, Kirstyn, and Kaitlyn. In addition, the beautiful family resides in New York City, and their eldest child, Brian attends Syracuse University.
Brian Kilmeade Salary|Net Worth
He is a radio presenter and political commentator for Fox News. Moreover, he also hosts a nationally syndicated radio show Kilmeade and Friends and he is an outstanding author. Brian earns an average salary of $4 million annually. In addition, Brian has a net worth of $11 million. Over and above that, he has interviewed the biggest names in politics, sports, and entertainment.
Is Brian Kilmeade Married
Brian is a husband to his wife Dawn DeGaetano December 3, 1993. Together, Brian and Dawn are dear parents to Kaitlyn, Kirstyn, and Brian.
How Old Is Brian Kilmeade
Brian is 58 years old and was born to his parents in 1964 in Massapequa, New York. He celebrates his special day on the 7th of May every year.
Where Is Brian Kilmeade
Brian is a Co-anchor, Fox & Friends host, The Brian Kilmeade Show, One Nation host,  as well as the New York Times Best Selling Author. In addition, as co-host of FOX & Friends, Brian shares his unique perspective on the daily news.  Perhaps, Brian's greatest accomplishment is writing 3 books where his 2 books were NY Times bestsellers. He is also a Massapequa, a New York native, a husband, and a dad of three kids.
Who Is Brian Kilmeade's Wife
Brian's wife is known as Dawn DeGaetano. Currently, Dawn is a housewife and takes care of her family. Brian and Dawn have 3 Brian, Kirstyn, and Kaitlyn.
Brian Kilmeade Twitter