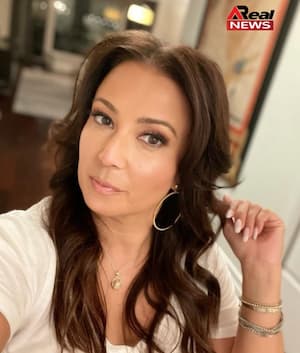 Julie Banderas Bio|Wiki
Julie Banderas (Julie Bidwell) is an American Emmy Award-Winning news anchor for the Fox News Channel, based in New York City. She currently works as a primary weekday fill-in anchor on Networks programs Including The Faulkner Focus, the talk show Outnumbered, and America's Newsroom. In addition,  she is a guest host on The Big Saturday and Sunday show. Moreover, Julie is also a regular guest on Fox News's late-night comedy show Gutfeld!
Previously, Julie hosted Fox Report Weekend before moving to a weekday anchor role. Julie received the Outstanding Single Newscast Emmy award in 2004. This was a result of her report coverage of the Republican National Convention.
Julie Banderas Age
She was born on September 25, 1973, in Hartford, Connecticut, United States. Julie is 49 years old.
Julie Banderas Family
She was born to her parents as Julie E. Bidwell but later took the professional name, Banderas. Her parents are Fabiola R. and Howard Dexter Bidwell (1930–2010). In addition, Julie's mother is an immigrant from Colombia while her father was a Navy veteran and civil engineer. Moreover, his father began a company called Consolidated Precast, Inc. Banderas. Julie has a sister Melissa Bidwell, and four half-siblings from her father's first marriage.
Julie Banderas Education
After completing high school, Julie attended and graduated with a Bachelor of Science (BS) degree in Broadcast Journalism from Emerson College.
Julie Banderas Of  Fox News|Gutfeld
Julie joined Fox News as a general-assignment reporter in March 2005. She currently works as a New York-based anchor for FOX News Channel (FNC).  Before her new position, Julie was a rotating weekday anchor for FOX News and guest co-host on FNC's Outnumbered.
Julie replaced Laurie Dhue in 2008 as the anchor for Fox Report Weekend.  She took maternity leave in 2010 when Harris Faulkner assumed her responsibilities. Julie was reassigned to the position of general news correspondent when she returned to the station from leave near the end of 2010.
Over and above that, Julie has covered major stories, including the 2005 Hurricane Dennis, the legal case of Terri Schiavo from Florida, the disappearance of U.S. student Natalee Holloway, and the murder of nine-year-old Jessica Lunsford by a registered sex offender.
Additionally, Julie reported live coverage of the  New York City mayoral race in 2013. She also provided live reporting of the crash landing of Southwest Flight 345 at LaGuardia Airport (LGA), Hurricane Sandy as well as the inauguration of Pope Francis.  Moreover, Julie has contributed to health and wellness stories for FOX News Channel.
Before joining FOX News Channel, she served as the weekend anchor for WNYW-TV (FOX 5) in New York, NY from J to .  \prior to that, Julie worked as an anchor for WFSB-TV (CBS 3) in Hartford, CT from to
Julie started her career in journalism at WLVI-TV at WLVI-TV (CW 56) in Boston, MA. In he moved to WHSV-TV in Harrisonburg, Virginia to serve as a news anchor. From to WBRE-TV in Wilkes-Barre Pennsylvania.
Julie's colleagues at Fox News
Shannon Bream – anchor
Sophia Minnaert-reporter
David Spunt – correspondent
Brian Kilmeade – anchor and host
Lawrence Jones – political commentator and contributor
Raymond Arroyo – contributor
Rick Reichmuth – chief meteorologist
Mike Emanuel – chief Washington correspondent
Harris Faulkner – anchor
Julie Banderas Height
She is a woman of average stature and stands at the height of 5 ft 5 in (1.65 m).
Julie Banderas Husband|Married
Julie is married to her husband Andrew J. Sansone. Andrew is a member of the board of directors of Habitat for Humanity. In addition, he is the founding president of both Old Rock Media and Big Apple Channel.
Andrew proposed marriage to Julie with a message-in-a-bottle. He pretended to discover it on the beach while clam-digging on Long Island Sound. Julie and Andrew tied the knot at Fifth Avenue Presbyterian Church on August 29, 2009. Notably, Julie announced their engagement during an episode of America's Election Headquarters on September 21, 2008. The couple has three children,  Avery Julie Sansone, and Addison Melissa Sansone, and reside in New York City.
Julie Banderas Salary|Net Worth
She is the news anchor for the Fox News Channel, based in New York City. Julie receives a decent salary of $320,450 annually. In addition, Julie has a net worth of $13 million which she has amassed in her journalism career.
Is Julie Banderas Still Married
She is the wife of Andrew J. Sansone,  a member of the board of directors of Habitat for Humanity. The couple wedded on August 29, 2009, at Fifth Avenue Presbyterian Church. Together, they have 3 adorable children and the family of 5 is living in New York City.
How Old Is Julie Banderas
Julie is from Hartford, Connecticut, and is 49 years of age. She was born on September 25 and celebrated her birthday with her family and friends.
Who Is Julie Banderas
Julie is Hartford, Connecticut native and her real name is Julie E. Bidwell. She is an Emmy Award-Winning FOX Anchor, a mommy to 3 children, and Pooper Scooper to 2 dogs. She is also the New York-based anchor for FOX News Channel (FNC) and appears on various shows on the network.
Julie Banderas Twitter