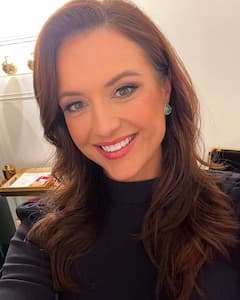 Nikki Battiste Bio|Wiki
Nikki Battiste is an American journalist and a CBS News correspondent based in New York. She has been a correspondent for CBS News based in New York City since 2018. Additionally, her reporting appears across all CBS News platforms and broadcasts, including CBS This Morning, CBS Evening News, and 48 Hours.
Additionally, Nikki has also covered major stories, including the coronavirus pandemic, the Indianapolis FedEx shooting, Hurricane Dorian in the Bahamas, Hurricane Michael in Florida, the Pittsburgh synagogue shooting,  the case of Colorado missing mother, Kelsey Berreth,  the El Paso Walmart shooting, and the New Zealand mosque shooting.
Previously, Nikki also worked as a substitute anchor on CBS News' digital channel, CBSN. Notably, she is an Emmy and Peabody-award-winning journalist. Her groundbreaking reporting and investigations gained critical acclaim including the Catholic Church sexual abuse scandal. Nikki's reporting led to 2 alleged clergy abuse survivors sitting down face-to-face with the priest they say abused them as children on television first.
Nikki Battiste Age
She was born in Newport, Pennsylvania, United States. Nikki is around 42 years old.
Nikki Battiste Family
She is a Pennsylvania native and was born to her wonderful parents Judy and Nick. However, Nikki likes to have the information regarding her parents and sibling kept away from the public. Keep checking since we will keep updating the section with any new information development.
Nikki Battiste Education
She attended Newport High School for high school.  Furthermore, Nikki attended and graduated with a Bachelor of Arts degree in Politics, Philosophy, and Economics from the University of Pennsylvania. While in college, Nikki was co-captain of their Division I Field Hockey team.
Nikki Battiste CBS News
Nikki joined CBS News in May 2017 and she became the network's correspondent in New York in 2018. Her reporting appears across all CBS News broadcasts and platforms. Those platforms include CBS Mornings, the CBS Evening News, 48 Hours, and CBS Sunday Morning. Moreover, Nikki's reports also appear on the CBS News Streaming Network, and CBS News' premier 24/7 anchored streaming news service.
Additionally, Nikki is a co-anchor on the CBS News Streaming Network, the CBS Weekend News, and the What to Watch the segment on CBS Mornings.
Nikki has covered the gun debate in America since joining CBS News. She also became the first to report on armed teachers in classrooms, which sparked a national conversation. Moreover, Nikki has covered and written numerous stories for the CBS News Evening News series, Eye on America, including a teacher's strike in Sacramento as well as the debate over arming college students on campus.
Additionally, Nikki also sat down with 5 sisters sexually abused by the same priest for an "Eye on America" report.  Notably, her feature pieces have included a look at groundbreaking brain research. The research could help with suicide and mental illness treatment, revolutionary food contamination technology as well as the wild horse crisis in the American West.
Prior to joining CBS News in 2017, the award-winning journalist worked as an ABC News producer and reporter based in New York.  Moreover, she has traveled the globe to cover breaking news and feature stories for all ABC News broadcast platforms. Her reports appeared on Good Morning America, World News Tonight, Nightline, 20/20, and ABCNews.com.
Nikki began her journalism career as an NBC News Page. She worked on Saturday Night Live and Today. Previously, Nikki served as a production associate at Today. Impressively, Nikki has won prestigious awards including Emmy awards, Edward R Murrow, CINE Golden Eagle awards, and Peabody, Deadline as well as Front Page awards.
Colleagues at CBS Include:
Norah O'Donnell-correspondent and anchor
Shelley Bortz-news reporter
Ed O'keefe-senior White House and political correspondent
Tony Dokoupil-anchor
Nate Burleson-football commentator
Claudia Milne-managing editor
Brian Applegate – executive producer
Jenny Taft – reporter
Gayle King – anchor
Nancy Chen – correspondent
Anthony Mason – senior culture correspondent
Ian Lee – news correspondent
Charlie D'Agata – senior foreign correspondent
Michelle Miller – national correspondent
Lilia Luciano – investigative journalist
Meg Oliver – correspondent
Debora Patta – foreign correspondent
Meghan Reistad-morning news anchor
Nicole D. Sganga-reporter
Adriana Diaz – national correspondent
Jonathan Blakely-executive producer
Anne-Marie Green-news anchor
Tracy Wolfson-sports broadcaster
Jenny Chiu – reporter
Jericka Duncan-national correspondent
Nikki Battiste Height
She is a woman of above-average stature and stands at a height of 5 ft 8 in (1.73 m). Additionally, Nikki has a moderate weight and has a body measurement of 34, 30, and 36.
Nikki Battiste Husband
She is the Wife of a Welshman, Dean Simpson, who is a soccer coach and program coordinator. The couple met at the Standard Hotel's Biergarten in New York City for the first time in May of 2012. Dean propose to Nikki on May 18, 2014, and the pair tied the knot in a colorful wedding held at Oheka Castle in Huntington, New York, on September 5, 2016. In May 2020, the duo welcomed their beautiful first baby child, Beau Nicholas. Additionally, Nikki resides with her family in New York City.
Nikki Battiste Salary|Net Worth
The Emmy and Peabody-award-winning journalist is a correspondent for CBS News based in New York City. Nikki earns an average annual salary of $674,679. She has over the years accrued quite impressive wealth mainly from her journalism career. Nikki has a net worth of $3 million.
Where Is Nikki Battiste
Nikki is currently working as a correspondent for CBS News based in New York City since 2018. Moreover, her reporting appears across all CBS News platforms and broadcasts. They appear on CBS This Morning, CBS Evening News, and 48 Hours.
She joined CBS News in May 2017 as a freelance correspondent and first reported for CBS NewsPath, the Network's 24-hour television newsgathering service for CBS stations and broadcasters around the world. Before that, Nikki served as an ABC News reporter and producer based in New York from March 2017 to May 2017.
How Old Is Nikki Battiste
Nikki has not disclosed her age in the public but we estimate that she could be 42 years old. We will keep our tabs on and update this section once we have detailed reliable information.
Is Nikki Battiste Married
Nikki is a proud mom to Beau and the wife of a Welshman Dean Simpson. The pair has been together since 2017 and now resides in New York City.
Nikki Battiste Twitter