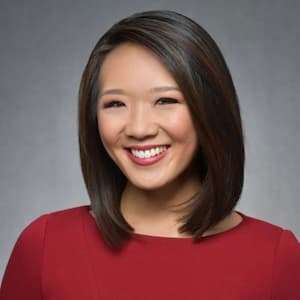 Nancy Chen Bio|Wiki
Nancy Chen is an American correspondent with CBS News in New York. She previously worked as a correspondent with the organization's Newspath division. Nancy has covered major stories including the criminal trial of Kyle Rittenhouse, the Waukesha Christmas parade attack, the 2022 Bronx apartment fire, and the Omicron wave in New York City.
Nancy Chen Age
She was born in 1988, in Texas, United States. Nancy is 35 years old.
Nancy Chen Family
She was born in Texas to her parents and brought up in Tulsa, Oklahoma. However, Nancy has kept her parents' and siblings' information away from the public. We will keep our tabs on and we will keep posted in case of any new information development.
Nancy Chen Education
She attended the Oklahoma School of Science and Mathematics. Nancy also studied Chinese at Peking University in Beijing. Furthermore, she graduated as a Trustee Scholar from the University of Southern California in Los Angeles with a degree in international relations.
Nancy Chen Cbs
Nancy is currently working as a CBS News correspondent. She reports across all broadcasts and platforms. Prior to CBS News, Nancy served as a weekday anchor and reporter at WJLA-TV in Washington, D.C. Additionally, she spent five years as a weekend anchor and weekday reporter for  WHDH-TV in Boston.
Nancy has covered numerous major stories on the national and global level, including the Kyle Rittenhouse trial, the Congressional ballpark shooting, the Boston Marathon bombings, and the aftermath. She also reported on the 2016 Summer Olympics in Rio, Brazil, the 2015 Super Bowl,  the 2014 Winter Olympics in Sochi, Russia, and the 2013 EF5 Moore, Oklahoma, tornado.
Prior to joining WHDH-TV, Nancy worked as a multimedia journalist at KSBY-TV in San Luis Obispo/Santa Barbara, California. Over and above that, she worked as a web producer at KABC-TV in Los Angeles. Additionally, Nancy was involved in production for NBC Sports in Beijing during the 2008 Summer Olympics. Notably, Nancy began her journalism career as a print reporter, writing for the Tulsa World for three years.
Colleagues:
Adriana Diaz – national correspondent
Norah O'Donnell-correspondent and anchor
Ed O'keefe-senior White House and political correspondent
Nicole D. Sganga-reporter
Shelley Bortz-news reporter
Nikki Battiste-correspondent
Brian Applegate – executive producer
Jenny Taft – reporter
Gayle King – anchor
Nancy Chen – correspondent
Anthony Mason – senior culture correspondent
Ian Lee – news correspondent
Charlie D'Agata – senior foreign correspondent
Michelle Miller – national correspondent
Lilia Luciano – investigative journalist
Meg Oliver – correspondent
Debora Patta – foreign correspondent
Claudia Milne-managing editor
Jonathan Blakely-executive producer
Tony Dokoupil-anchor
Anne-Marie Green-news anchor
Tracy Wolfson-sports broadcaster
Carter Evans-news correspondent
Jenny Chiu – reporter
Meagan Fitzgerald – correspondent
Tom Llamas-News Now anchor
Nancy Chen Height
She is a woman of average height and stands at the height of 5 ft 4 in (1.63 m). Moreover, Nancy weighs 56 kg (123.5 lbs ) and has body measurements of 34, 30, and 35.
Nancy Chen Husband
Nancy is not yet married but is engaged to her lovely future husband Joe, a professor of Social Psychology. Joe proposed to her near the Art Museum's Fairmount Waterworks. However, there is no detailed information about the couple and we will update you once we have detailed information,
Nancy Chen Salary|Net Worth
She is working as a correspondent with CBS News in New York. Nancy earns an impressive salary from CBS News of around $230,560 annually. She has over the year amassed great wealth, Nancy has a net worth of $1.1 million.
Is Nancy Chen Married
She is not married yet, however, Nancy is engaged to Joe. Joe proposed to Nancy near the Art Museum's Fairmount Waterworks. we will keep you posted and update you when the couple set date for their wedding, keep checking.
How Old Is Nancy Chen
She was born in 1988, in Texas, Nancy is 35 years old. We are reviewing this section and we will update you later when Nancy celebrates her birthday.
Is Nancy Chen Related To Julie Chen
Julie Suzanne Chen Moonves (Julie Chen) is an American television personality, news anchor, and producer for CBS. She has been the host of the American version of CBS  However, despite Nancy and Julie sharing their last name and working at the same network(CBS News) they are not in any way related in blood.
Julie is the daughter of Chinese immigrants, Julie Chen was born in Queens, New York City. Her mother is Wang Ling Chen who grew up in Rangoon, Burma. Additionally, Julie's father, David Chen, was born in China, and subsequently fled to Taiwan following the Chinese Civil War.