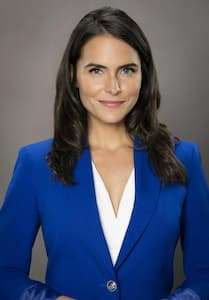 Lilia Luciano Bio|Wiki
Lilia Luciano is an American award-winning investigative journalist, documentary film director, and producer. She serves as a national correspondent at CBS News based in New York. Luciano also hosts the iHeart Radio podcast, El Flow. Previously, she worked as an investigative reporter at ABC 10 in Sacramento, California. Luciano also served as the chief investigative correspondent on Discovery Channel's Border Live.
Luciano has won prestigious awards for her reporting.  In 2018,  she won  National Walter Cronkite Award for Excellence in Journalism for her Documentary Puerto Rico Rises.  In the same year, she received a Regional Edward R Murrow Award for Continuous Coverage of the Northern California Wildfires. Additionally, Luciano has won five Northern California Emmys. Moreover, her stories that were nominated include coverage of immigration, asylum seekers, the California homeless crisis, and California Wildfires as well as her documentary about colonialism and Hurricane Maria in Puerto Rico
Lilia Luciano Age
She was born in San Juan, Puerto Rico on October 12, 1984. Luciano is 38 years of age.
Lilia Luciano Parents
She was born and raised by her parents in San Juan, Puerto Rico. Luciano is an American nationality by birth and is fluent in Spanish, English, and Portuguese. However, information about Luciano's parents is not available at the moment. Nonetheless, we are keeping tabs on and we will update this section in detail later.
Lilia Luciano Education
She attended Tufts University in Massachusetts to study pre-medicine. However, Luciano transferred in 2003 to the University of Miami where she graduated in 2007 with a bachelor's degree in economics and broadcast journalism.
Lilia Luciano Cbs News
The award-winning journalist, Luciano is a CBS News correspondent based in Los Angeles. She joined the Network in March 2020 as a freelance correspondent and ever since her reporting has been featured across CBS News broadcasts and platforms.
While at CBS News, she has covered key stories on the West Coast, including the COVID-19 pandemic, immigration at the border in Arizona and California, Black Lives Matter protests in Portland, Oregon as well as wildfires in Oregon and California.
Prior to joining CBS News, Luciano served as an investigative reporter at ABC 10 in Sacramento from 2016 to 2019. She was the chief investigative correspondent for Discovery Channel's Border Live in 2018. Luciano covered immersive stories about the people who live, work, and survive along the U.S.-Mexico border.
Additionally, she also worked as a host and contributor on multiple VICE platforms. Before that, Luciano worked as a correspondent for NBC News. There, she reported in English and Spanish for all network platforms.
Luciano began her journalism career in 2005 at Univision Networks. She worked as an anchor and as a correspondent until 2010 when she joined NBC News as the network correspondent.
Impressively, Luciano is the recipient of multiple journalism awards including five regional Emmys, the 2018 Walter Cronkite Award for Excellence in Journalism for a four-part series on Puerto Rico in the aftermath of Hurricane Maria as well as a regional Edward R. Murrow Award for her coverage of California wildfires.
Luciano is also a filmmaker and documentary producer in addition to her work in front of the camera. Moreover, she directed and produced the HBO documentary film, Wars of Others, released in 2016. The documentary uncovers the social, environmental, and health impacts of aerial spraying in Colombia. Moreover, the HBO Latino documentary film is about the consequences of the U.S. war on drugs on Colombian farmers.
Colleagues at Cbs Include:
Adriana Diaz – national correspondent
Nikki Battiste-correspondent
Brian Applegate – executive producer
Jenny Taft – reporter
Gayle King – anchor
Nancy Chen – correspondent
Anthony Mason – senior culture correspondent
Ian Lee – news correspondent
Shelley Bortz-news reporter
Charlie D'Agata – senior foreign correspondent
Michelle Miller – national correspondent
Meg Oliver – correspondent
Debora Patta – foreign correspondent
Norah O'Donnell-correspondent and anchor
Ed O'keefe-senior White House and political correspondent
Tony Dokoupil-anchor
Carter Evans-news correspondent
Nate Burleson-football commentator
Meghan Reistad-morning news anchor
Nicole D. Sganga-reporter
Jonathan Blakely-executive producer
Debora Patta-foreign correspondent
Meg Oliver-Meg Oliver
Anne-Marie Green-news anchor
Tracy Wolfson-sports broadcaster
Jenny Chiu – reporter
Jericka Duncan-national correspondent
Lilia Luciano Univision
began her career as co-host of a live daily program and as a correspondent for the top-rated show Aquí y Ahora for he also worked as spokesperson to the Univision and Bill Gates Foundation's Education Campaign, Es El Momento in 2010.
Moreover, Luciano also served as a supporter and collaborator with St. Jude Children's Research Hospital, and Walk Now for Autism. Additionally, Luciano has served on the Advisory Board of the United Nations Foundation Girl Up Campaign since 2013. Moreover, she is a Today I am Brave Speaker series.
In December 2010, Luciano joined NBC News from the Univision network. Prior to that, she worked as a co-host from 2006 to 2010 at Escandalo TV (Scandal TV), a spicy Spanish gossip show at TeleFutura Network.
Lilia Luciano Height And Weight
She is a woman of average height and stands at a moderate height of 5 ft 5 in (1.65 m). Moreover, Luciano is of slim build and she looks elegant in her appearance. She weighs 56 kg (123.5 lbs) and has a body measurement of 34-30-36.
Lilia Luciano Wedding|Husband
Luciano is blissfully married to her husband Matt DeRoss, a film producer by profession. She was previously married to Luis Alayo, a Catalonian banker, on 28 December 2007, but, the pair divorced in 2009 citing irreconcilable differences. Luciano had met Luis in Puerto Rico, while on vacation and was a student in Boston at the time and Alayo was living on the island. Their love began four years later and had their wedding in 2007 at the famous Santa María del Mar cathedral, a historical landmark in Barcelona. At the time, Luciano was 23 years of age and Luis was 38 years old.
Lilia Luciano Net Worth
She is an award-winning investigative journalist, documentary film director, producer, and public speaker. In addition, Luciano has a unique style of reporting that was developed over a decade of video storytelling. She has over the years amassed quite impressive wealth from her journalism career. Luciano has a net worth of $2.2 million. She receives an average salary of $543,670 annually from his journalism career.
Is Lilia Luciano Married
Luciano is a married woman to a film producer, Matt DeRoss. Over and above that, she was married to Luis Alayo, a Catalonian banker, on 28 December 2007. However, Luciano divorced in 2009 citing irreconcilable differences with her former husband Luis.
How Old Is Lilia Luciano
Luciano was born in San Juan, Puerto Rico in 1984 and she is 37 years old. She celebrates her birthday on the 12th of October every year with her family members and close friends.