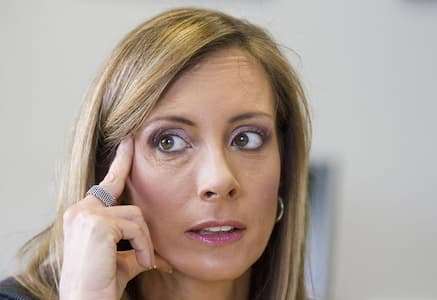 Debora Patta Bio|Wiki
Debora Patta is a South African television producer investigative journalist, broadcast journalist, and author. She is the foreign correspondent for the American news program The CBS Evening News since 2013. Previously, Patta was self-employed and hosted her investigative and current affairs show, 3rd Degree with Debora Patta in Johannesburg , South Africa. She is an enthusiast and has summited Mt. Kilimanjaro and ran a New York City marathon.
Debora Patta Age
She was born in Southern Rhodesia (now Zimbabwe) on September 1, 1964. Patta is 58 years old.
Debora Patta Family
Patta was born to her parents in Southern Rhodesia (now Zimbabwe). She has origins from Calabria, Italy where her father is Italian and had emigrated as a railway employee. Additionally, Patta's father was from Rome, Italy and Patta lived there for a while when she was young. Moreover, her Italian family is originally from Praia a Mare in Calabria, and Patta considers Italy her second home and travels there regularly. Patta moved to South Africa with her mother and her sister in 1976 after her parents divorced.  Her mother is a nurse and devout Catholic.
Debora Patta Education
Patta matriculated in 1981 from Rustenburg School for Girls in the Rondebosch suburb of Cape Town. She obtained a Bachelor of Social Sciences in 1984 from the University of Cape Town. Additionally, Patta briefly taught aerobics while at college.  Moreover, she worked as a political activist teaching literacy in Cape Town's squatter camps after graduating from college until 1990 when she began working as a freelance reporter for the BBC.
Debora Patta Cbs
Patta joined CBS News in 2013 and is currently the CBS News foreign correspondent based in Johannesburg, South Africa. She has reported on key international stories across the continent including the kidnapping of schoolgirls by Boko Haram, the Ebola outbreak, and the famine in South Sudan. Patta reports for all CBS News broadcasts and platforms, including the CBS Evening News, CBS Mornings, and the CBS News Streaming Network, CBS News' premier 24/7 anchored streaming news service.
She has also reported across the Middle East and Europe since joining CBS News. Patta covered the bombing of a Syrian children's hospital, the fall of Aleppo, and terror attacks in Brussels, France, and Spain. She has also reported from conflict zones in Niger, Somalia, and Cameroon.
Patta started her journalism career in South Africa as a reporter for BBC Radio. She joined a Johannesburg talk radio station in 1990. Patta was famously known for her coverage of Mandela during his election campaign to become South Africa's first black president. Notably, Mandela referred to Patta as "his favorite journalist." In 1998, Patta moved to the independent free-to-air television station e.tv, as an editor-in-chief. She later launched the country's first 24-hour TV channel. Additionally, Patta also worked as the host and executive producer of "Third Degree," an investigative current affairs program.
She is an award-winning journalist and has won numerous prestigious awards and honors including the Vodacom Media Woman of the Year, South Africa's Most Influential Woman in Media, and Italy's Woman of the World. Additionally, Patta was one of MTN's Outstanding Women in Media. Moreover, she is the recipient of an Edward R. Murrow Award,  an NABJ Salute to Excellence award as well as a Scripps Howard award for broadcast excellence.
Patta is also an author and her publications include, Baby Micaela: the inside story of South Africa's most famous abduction case which she co-authored with Anne Maggs. Sandton: Zebra Press, 1996,  One step behind Mandela: the story of Rory Steyn, Nelson Mandela's chief bodyguard and co-authored with Rory Steyn as well as  Rivonia: Zebra Press, 2000.
Colleagues at Cbs Include:
Adriana Diaz – national correspondent
Nikki Battiste-correspondent
Norah O'Donnell-correspondent and anchor
Ed O'keefe-senior White House and political correspondent
Tony Dokoupil-anchor
Carter Evans-news correspondent
Nate Burleson-football commentator
Meghan Reistad-morning news anchor
Nicole D. Sganga-reporter
Jonathan Blakely-executive producer
Anne-Marie Green-news anchor
Tracy Wolfson-sports broadcaster
Jenny Chiu – reporter
Shelley Bortz-news reporter
Jericka Duncan-national correspondent
Brian Applegate – executive producer
Jenny Taft – reporter
Gayle King – anchor
Nancy Chen – correspondent
Anthony Mason – senior culture correspondent
Ian Lee – news correspondent
Charlie D'Agata – senior foreign correspondent
Michelle Miller – national correspondent
Lilia Luciano – investigative journalist
Meg Oliver – correspondent
Debora Patta Height
She is a woman of moderate stature and stands at a height of 5 ft 7 in (1.70 m). Patta weighs 59 kg (130.1 lbs) and has a body measurement of 36-32-36.
Debora Patta Husband
Patta is happily married to Andrew Levy. The pair tied the knot in 2012 and as of 2019, she resided in Johannesburg with her youngest daughter, Ella.  Patta has two daughters and her elder daughter, Chiara Mzizi, has worked as a presenter for YoTV, a youth entertainment show broadcast by SABC 1, and was a student at the University of Cape Town.
Debora Patta Salary|Net Worth
She is an award-winning Broadcast journalist, television producer, radio personality, and author. Patta receives her salary working as a foreign correspondent for the American news program The CBS Evening News. She earns an average salary of $654,980 annually. Patta has an estimated net worth of $1.3 million which she has amassed over the years.
Is Debora Patta Married
She is a wife to Andrew Levy since 2012. Patta, however, has been married to Lance Levitas from 2003 to 2011 and to Mweli Mzizi from 1996 to 2002.
Patta and Mweli Mzizi married in January 1996 and the wedding was attended by hundreds of guests including Nelson Mandela. However, the Department of Home Affairs notified Mzizi that the marriage was invalid after the wedding. This was because Mweli did not fill out a form requiring black men to say that they were not already married.
Where Is Debora Patta Now
Patta is currently serving as the Africa correspondent for the American news program CBS News based in South Africa. She joined CBS News in 2013, following her departure from the long-running investigative and current affairs show, 3rd Degree with Debora Patta.
How Old Is Debora Patta
She was born in 1964 to her parents in Zimbabwe. Patta is 58 years old and celebrates her birthday every year on September 1 with her friends and her family.