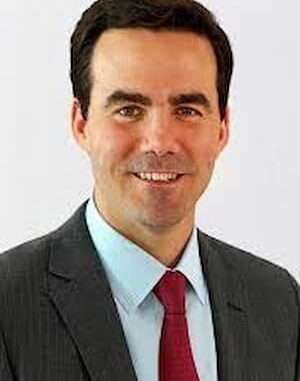 Robert Costa Bio|Wiki
Robert Costa is an American chief election and campaign correspondent for CBS News. He also collaborates on particular projects and investigations with The Washington Post. Prior to joining CBS in 2022, Costa was a longtime national political reporter for The Washington Post. Previously, he was a political analyst for NBC News and MSNBC and the moderator and managing editor of Washington Week on PBS. He is the co-author with Bob Woodward of Peril, a # 1 New York Times bestseller on the final days of the Trump presidency, including the 2021 United States Capitol attack.
Robert Costa Age
He was born on October 14, 1985, in Richmond, Virginia. Costa is 37 years old.
Robert Costa Family
He is of partial Italian descent and a son of attorneys Anne-Dillion Marie Dalton Costa (née Dalton) and Thomas Eugene Costa. Costa was born in Richmond, Virginia, and brought up in Lower Makefield Township, Bucks County, Pennsylvania. His father worked as an attorney for the pharmaceutical company Bristol-Myers Squibb. Additionally, Robert has three siblings.
Robert Costa Education
Costa holds a bachelor's degree in American studies from the University of Notre Dame and a master's degree from the University of Cambridge. During his time at Notre Dame, Costa held internships at PBS' Charlie Rose, ABC's This Week with George Stephanopoulos, and in the House of Commons of the United Kingdom. On campus, he hosted and produced an interview program for ND-TV called Office Hours. Moreover, Costa was an active member of the Cambridge Union debating society and focused his research on Winston Churchill and United Kingdom–United States relations.
He grew up in Lower Makefield Township, Bucks County, Pennsylvania, where he attended Pennsbury High School and graduated in 2004. While Costa was at Pennsbury, Sports Illustrated writer Michael Bamberger profiled him in the book Wonderland: A Year in the Life of an American High School. Costa was also friends with actor Zach Woods and journalist Hallie Jackson, two fellow Pennsbury students.
Costa gained notice during high school for bringing rock musicians such as John Mayer, Eve 6, and Maroon 5 to perform at the school. He also reported for The Bucks County Courier Times, interviewing bands and reviewing concerts in the Philadelphia area, and covered professional and local sports for PHS-TV, the student television station.
Robert Costa Cbs
Costa is the Chief Election and Campaign correspondent for CBS News. He covers national politics and American democracy. Additionally, Costa is a regular contributor to the "CBS Evening News with Norah O'Donnell," "Face the Nation with Margaret Brennan," "CBS Mornings," and "Sunday Morning," as well as to CBS News Streaming programs such as "Red & Blue."  Costa has interviewed high-profile leaders including Vice President Kamala Harris and Congresswoman Liz Cheney as part of his coverage.
Before joining CBS News in 2022, Costa and reporting legend Bob Woodward co-wrote "Peril," which was published by Simon & Schuster (a division of Paramount) in September 2021. The book documented the tumultuous transition between the Trump presidency and the Biden presidency and was a No. 1 New York Times bestseller. It was also cited in congressional subpoenas issued by the House committee investigating the January 6, 2021, attack on the U.S. Capitol.
From 2014 to 2021, Costa was a national political reporter at The Washington Post, where he worked with colleagues on numerous investigations and covered Congress, the White House, and campaigns. He served as a lead host of "Post Live," the Post's live interview series featuring his in-depth conversations with newsmakers such as Senator Bernie Sanders, Vice President Mike Pence, House Speaker Nancy Pelosi, and actress Jane Fonda.
Costa served as the moderator and managing editor of "Washington Week" on PBS from 2017 to 2020. The respected prime-time news program, which features discussions with top national reporters on Friday nights, is one of the longest-running shows on television. During Costa's tenure, The Associated Press called the broadcast "satisfyingly wonkish and amid a TV sea of partisan megaphones … especially important."
From 2015 to 2020, Costa was a political analyst for NBC News and MSNBC, appearing on "Morning Joe," "Today," "Meet the Press" and "The 11th Hour," among other programs.
Costa holds a bachelor's degree with honors from the University of Notre Dame, where he is a former trustee and a master's degree in politics from the University of Cambridge. During the 2022-2023 academic year, Costa serves as a non-resident scholar at the University of Virginia's Center for Politics, focusing on American democracy and journalism.
His CBS News Collegues;
Chris Hoffman-freelance reporter
Shelley Bortz-news reporter
Adriana Diaz – national correspondent
Nikki Battiste-correspondent
Norah O'Donnell-correspondent and anchor
Ed O'keefe-senior White House and political correspondent
Tony Dokoupil-anchor
Carter Evans-news correspondent
Nate Burleson-football commentator
Meghan Reistad-morning news anchor
Nicole D. Sganga-reporter
Jonathan Blakely-executive producer
Tracy Wolfson-sports broadcaster
Jenny Chiu – reporter
Jericka Duncan-national correspondent
Anthony Mason – senior culture correspondent
Ian Lee – news correspondent
Charlie D'Agata – senior foreign correspondent
Michelle Miller – national correspondent
Lilia Luciano – investigative journalist
Meg Oliver – correspondent
Robert Costa Weight Loss
Robert woke up one day and realized he was gaining too much weight. He, therefore, decided to stop eating junk food. Costa was taking a walk each day and black coffee with no sugar or cream and later upgraded to taking the first diet and second exercise on his campaign diet of ten years.
His most controversial work is arguably his very public battle with obesity where he lost a lot of weight while appearing on TV shows and documentaries. In the quest for fitness and weight loss, Costa became one of the most controversial figures in modern, non-traditional media, as well as one of the most beloved celebrities in America.
His weight loss ideal began way back in 1986 when he established himself as a serious weight loss and fitness advocate. Costa first tried out a number of different diets, which resulted in failure. He thereafter decided to get inspired by the true story of a man who had lost weight through a strict diet plan and then maintained it for the rest of his life.
Impressively, after Costa adopted this system and created his own junk food diet plan he became a celebrity for his great Robert Costa weight loss program. He has spoken extensively about his journey in his best-selling book – Lose Weight For Life.
Robert Costa Book
Costa's most Popular Books are; Peril and The Surge: 2014's Big GOP Win and What It Means for the Next Presidential Election
He co-authored the book Peril with American journalists Bob Woodward and it was published on September 21, 2021, by Simon & Schuster. The book is all about the last days of Donald Trump's presidency, as well as the presidential transition and early presidency of Joe Biden.
Its title, Peril, was inspired by an excerpt of Biden's inaugural address considering the culmination of Woodward's reporting on the Trump Administration. President Biden in his speech proclaimed that Americans will press forward with speed and urgency, for we have much to do in this winter of peril and possibility.
Robert Costa Salary|Net Worth
Costa also is a national political reporter for The Washington Post. He is a political analyst for NBC News and MSNBC. Costa earns an impressive salary from his journalism career and has an estimated net worth of $5 million.
How Old Is Robert Costa
The partial Italian descent is 37 years old. Richmond, Virginia native celebrates his birthday with family and friends on October 14.