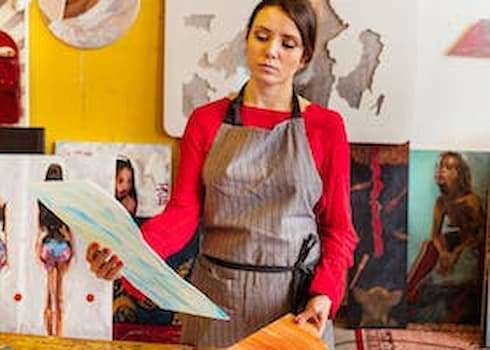 The Stages of Guilt After Cheating
Cheating is a betrayal of trust that can cause a great deal of pain and guilt for the person who did it. The guilt can be overwhelming and can lead to a number of different stages.
Guilt after cheating can manifest in various stages as individuals grapple with the moral and emotional consequences of their actions. These stages are not necessarily linear and can overlap, and not everyone experiences them in the same way.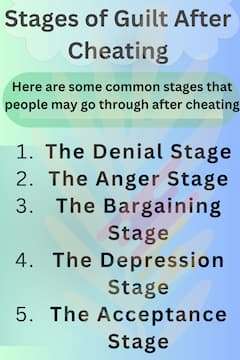 Here are some common stages that people may go through after cheating
The Denial Stage
In the denial stage, the cheater may try to convince themselves that they didn't really cheat or that it wasn't a big deal. They may also try to justify their actions by blaming their partner or the circumstances.
The Anger Stage
Once the denial stage wears off, the cheater may start to feel angry. They may be angry at themselves for cheating, angry at their partner for finding out, or angry at the person they cheated with.
The Bargaining Stage
In the bargaining stage, the cheater may try to make deals with themselves or their partner. They may promise to never cheat again or to do anything else to make up for what they did.
The Depression Stage
The depression stage is often the lowest point for the cheater. They may feel worthless, hopeless, and like they can't forgive themselves.
The Acceptance Stage
The acceptance stage is the final stage of guilt after cheating. In this stage, the cheater comes to terms with what they did and begins to move on. They may still feel guilty, but they know that they can't change the past.
Have you accepted what you did? If not, it's important to keep working on it. Forgiveness is a process, and it takes time.
The stages of guilt after cheating are not always linear. The cheater may move back and forth between stages or experience them in a different order. There is no right or wrong way to go through these stages.
If you have cheated on your partner, it is important to allow yourself to feel the guilt. It is a natural part of the healing process. However, it is also important to remember that you are not defined by your mistake. You can learn from what happened and move on to become a better person.
If you are struggling to cope with the guilt after cheating, it is important to seek help. Talk to a therapist or counselor who can help you process your emotions and develop coping mechanisms.
Remember, you are not alone. Many people have cheated and gone on to have healthy, happy relationships. With time and effort, you can overcome the guilt and rebuild your relationship.
How To Fix a Relationship After Cheating
Fixing a relationship after cheating is a difficult and complex process. There is no one-size-fits-all answer, as the best way to move forward will vary depending on individual circumstances. However, there are some general tips that may be helpful Here.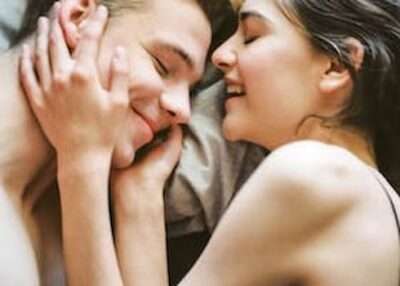 What To Do When You Cheat On Someone You Love
Here are some things you can do if you have cheated on someone you love:
Be honest with yourself and your partner.

The first step is to acknowledge what you have done and take responsibility for your actions. This may be difficult, but it is important, to be honest with your partner so that they can make an informed decision about their future.

Understand why you cheated.

There are many reasons why people cheat, and it is important to understand your own motivations in order to prevent it from happening again. Some common reasons for cheating include feeling insecure, feeling neglected, or being unhappy in your relationship.

Apologize to your partner.

This may seem like a no-brainer, but it is important to sincerely apologize to your partner for what you have done. Let them know how sorry you are and that you understand how much you have hurt them.

Make amends.

This may involve taking steps to rebuild trust, such as cutting off contact with the person you cheated with or being more open and communicative with your partner.

Seek help.

If you are struggling to cope with the guilt or shame of cheating, it may be helpful to seek professional help from a therapist or counselor. They can help you understand your behavior and develop strategies for preventing it from happening again.
It is important to remember that there is no easy fix for cheating. It takes time, effort, and commitment from both partners to rebuild trust and repair the relationship. However, if both partners are willing to work hard, it is possible to move past infidelity and create a stronger relationship.
Here are some additional things to keep in mind:
Don't expect your partner to forgive you immediately.

It may take time for them to heal from the pain you have caused.

Be patient and understanding.

Rebuilding trust takes time and effort. Don't get discouraged if your partner doesn't seem to be making progress.

Be willing to make changes.

If you want to rebuild your relationship, you need to be willing to make changes. This may mean changing your behavior, communicating more effectively, or addressing underlying issues in your relationship.

Don't give up.

If you are both committed to making your relationship work, there is hope for a future together.
Related Articles:
Why Chasing Isn't Always the Answer
The Key to a Successful Relationship