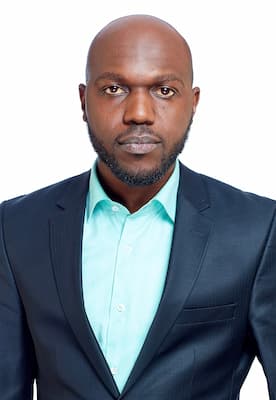 Larry Madowo Bio, Wiki
Larry Madowo, a Kenyan broadcast journalist, writer, blogger, foreign policy commentator, and travel addict, currently holds the esteemed position of an international correspondent for CNN, stationed in Nairobi. His extensive coverage of Africa has garnered him recognition in the field. Prior to joining CNN, Madowo made a name for himself as a North American correspondent for BBC, where he skillfully anchored breaking news and presented BBC World News America from Washington, DC.
Furthermore, Madowo's expertise and insight have made him a sought-after commentator on various international platforms, including The Washington Post, Al Jazeera English, Public Radio International, ABC News Australia, France 24 English, the World Economic Forum, and RTÉ Ireland. In addition, his reputation has led him to host distinguished conferences in major global capitals, such as Nairobi, Paris, Zurich, Cape Town, Beijing, Stockholm, Lagos, London, and more.
Turning to his early career, Madowo commenced his professional journey in Nairobi as a Trainee Reporter at KTN, later assuming the role of a Business Anchor at NTV Kenya, where he worked on two occasions. He then went on to anchor and report on business and financial news at CNBC Africa before returning to NTV.
In March 2018, Madowo made a significant career move by joining the BBC. Notably, he hosted The Larry Madowo Show on Nation FM from August 2014 to June 2016 and penned a weekly column named #FrontRow in the Daily Nation from August 5, 2014, until February 8, 2018. Moreover, in Kenya, he gained prominence for hosting the popular Friday night show called #thetrend on NTV Kenya from December 2012 to June 30, 2017.
Larry Madowo Age
Larry Madowo, who is currently 35 years old, was born on July 14, 1987, in Siaya, Kenya. Interestingly, his career aspirations took an unexpected turn as he initially had intentions of becoming a priest and received some training in that pursuit before ultimately deciding to change paths.
Moreover, every year on the 14th of July, Larry joyfully celebrates his birthday alongside his loved ones, creating cherished memories and enjoying the company of family and friends.
Larry Madowo Family
Madowo's upbringing was marked by residing in different regions of Kenya, including Siaya, Kisumu, and Nairobi. He attended Usingo and Karapul primary schools for his elementary education and later pursued his secondary education at St Gabriel's Seminary. Interestingly, his initial aspirations had included training as a girl-guide, but as time went on and he completed high school, his career goals took a different direction. Ultimately, he enrolled in college to study broadcast journalism.
Moreover, Larry Madowo's familial background is noteworthy. He was born to his parents, Mr. Madowo and Treazer Madowo, in Kenya, and throughout his childhood, he moved among various parts of the country. Larry also has a younger sister named Liz, who graduated from Moi University and has established herself as a stylist and fashion blogger.
Unfortunately, Larry experienced the loss of both his parents at a young age. His father, known as Madowo, passed away when Larry was only 7 years old, and his mother, Treazer Anyango Madowo, also passed away during his teenage years. During this difficult time, Larry was fortunate to have the support and care of his late grandmother, Francisca Madowo.
Larry Madowo Education Background
Larry's educational journey began with his attendance at Usingo and Karapul primary schools, followed by his enrollment at St Gabriel's Seminary for his secondary education. Transition word: Subsequently, in 2006, he embarked on pursuing a Communication degree at Daystar University in Nairobi. However, Larry made the decision to leave college after a year and a half to seize an opportunity at Kenya Television Network (KTN-TV).
Nevertheless, Larry's commitment to education remained strong, and he eventually returned to college. In 2014, he proudly graduated from Daystar University with a Bachelor of Arts in Communication degree, marking a significant milestone in his academic journey.
Furthermore, Larry's thirst for knowledge led him to pursue further education. In 2020, he achieved yet another academic accomplishment by graduating from Columbia University with a Master of Arts degree in Business and Economics Journalism, solidifying his expertise in the field.
Larry Madowo On Cnn
Larry joined CNN in May 2021 as their Nairobi correspondent. Just two months later, in July 2021, Madowo was promoted to the role of international correspondent, focusing on Africa. Prior to CNN, Madowo served as the North American Correspondent for BBC in Washington, D.C. from June 2020 to May 2021.
Before his CNN tenure, Larry had a diverse career. He began as a 2019-2020 Knight-Bagehot Fellow in Economics and Business Journalism at Columbia University in New York. From April 2018 to August 2019, he worked as the African Business Editor for BBC in London, UK. Starting as an intern at Bahasha FM, Larry gained experience as a trainee reporter at KTN in Nairobi from 2008 to 2010. He then joined Nation Media Group (NTV) in Nairobi as a business reporter and anchor from 2010 to 2012.
In May 2012, Larry transitioned to CNBC Africa in Johannesburg as a business reporter. However, he returned to NTV in December 2012 as the technology editor and news anchor. During his second tenure at NTV, he freelanced for various global news outlets, including CNN International, BBC, France 24 English, and Public Radio International.
Reflecting on the earlier years of his career, Madowo initially pursued a Communication degree at Daystar University in Nairobi in 2006. After an internship at Bahasha FM in 2007, he dropped out of college to work at Kenya Television Network (KTN). Later, he transitioned to NTV, serving as a business anchor and reporter. Larry briefly joined CNBC Africa in May 2012 before returning to NTV in December 2012. In June 2014, he completed his Bachelor of Arts in Communication degree from Daystar University.
During his second stint at NTV Kenya, Larry also freelanced for CNN International, France 24 English, the BBC, and Public Radio International. Notably, when the Daily Nation declined to publish his critical column on the Kenyan government's shutdown of four major private TV stations in early 2018, the opinion piece found a home on the CNN website. He then became a Contributing Columnist for the Washington Post's Global Opinions page.
On April 11, 2018, Madowo joined BBC News Africa as Business Editor, leading a team of business journalists based in Nairobi, London, Lagos, Dakar, and Johannesburg. He made notable appearances on various BBC platforms, including BBC World TV, BBC World Service Radio, BBC News channel in the UK, bbc.com, and BBC Radio 4 as a reporter or commentator on African business.
Madowo's radio documentary on the Chinese-built railway in Kenya received the Daily Journalism (Single Report) category award at the 2019 Association of International Broadcasting Awards.
Larry Madowo's colleagues at CNN include:
Susan Hendricks – fill-in anchor
Becky Anderson – anchor, host $ managing editor
Erin Burnett – news anchor
Brianna Keilar – anchor
Lynda Kinkade – anchor and correspondent
Julia Chatterley – anchor and correspondent
Kara Scannell – correspondent
Dana Bash – chief political correspondent
Rosemary Church – international news anchor
Erica Hill – fill-in anchor and national correspondent
Sara Murray – political correspondent
Robyn Curnow – news anchor, correspondent, and write
Lynda Kinkade – anchor and correspondent
Nina Dos Santos – news anchor and correspondent
Larry Madowo Ntv
After the Daily Nation declined to publish his critical column about the Kenyan government's shutdown of four major private TV stations in early 2018, Larry decided to end his column with NTV Kenya. However, the opinion piece found a platform on the CNN website. Following this, he took on the role of a Contributing Columnist for the Washington Post's Global Opinions page.
In March 2020, Larry's accomplishments were recognized as he was selected as a Young Global Leader by the World Economic Forum. Additionally, in June 2020, he received a nomination for One Young World Journalist of the Year. Larry's influence has been acknowledged on multiple occasions, as he has been named among the 100 Most Influential Africans by New African magazine, not once but twice. Moreover, in 2020, he was cited as one of the Top 100 most influential Africans by the same magazine.
Larry Madowo Bbc News
Upon joining BBC News in April 2018, Larry assumed the role of Africa Business Editor, leading a team of business journalists stationed in Nairobi, London, Lagos, Dakar, and Johannesburg. His contributions spanned across various BBC platforms, including BBC World TV, BBC World Service Radio, BBC News channel in the UK, bbc.com, and BBC Radio 4, where he served as a reporter or commentator on African business.
Recognized as one of the 2019-2020 Knight-Bagehot Fellows at Columbia University, Larry temporarily departed from BBC News in August 2019 to embark on a sabbatical for his fellowship at Columbia Journalism School. During his time at Columbia, he garnered the Philip Greer Scholarship Award for Financial Writing, owing to his master's thesis on the eventful first year of African e-commerce pioneer Jumia on the New York Stock Exchange.
Returning to the BBC in June 2020, Larry assumed a new position as a North America Correspondent based in Washington, D.C. In this capacity, he reported from various locations, including a Coronavirus Unit in Houston, Texas, as well as North Dakota, Georgia, Kentucky, New York, Louisiana, and both South and North Carolina. His interviews encompassed a wide range of influential figures, such as presidents, global CEOs, renowned artists, and even Sophia the Robot.
Larry also played a significant role in covering the 2020 US election and the inauguration of President Joe Biden. In December 2020, he made history by becoming the first Black individual to deliver the Peter Stursberg Foreign Correspondents Lecture at Carleton University in Canada. His experiences as a foreign correspondent in the United States were highlighted in interviews with prestigious publications like The New Yorker and NPR.
Larry Madowo Victoria Rubadiri, Dating
Larry Madowo and Victoria Rubadiri, former news anchors at NTV, were widely regarded as a perfect on-screen pair. Speculation arose regarding a potential marriage between Larry and his former screen partner, Victoria Rubadiri. However, it has since been confirmed that Larry and Victoria Rubadiri did not tie the knot.
On the other hand, recent reports indicate that Larry has entered a romantic relationship with Edith Kimani. While we currently have limited details about Larry's love life, particularly concerning his relationship with Edith, we will provide further information once it becomes available.
Larry Madowo And Edith Kimani
Larry Madowo and Edith Kimani have ignited excitement among fans with their delightful relationship. The two journalists recently shared an intimate moment to celebrate the New Year together. Amid circulating breakup rumors, both Larry Madowo, a CNN correspondent, and his girlfriend Edith Kimani have confirmed that they are still happily together.
On October 31, 2021, Larry and Edith Kimani, his counterpart from DW News, shared photos together that seemed to serve as confirmation of their relationship. Edith captioned her post with "my sweet Larry Madowo," while Larry captioned his with "Hey Edith Kimani."
Their posts quickly garnered a flood of congratulatory messages from fans within a matter of hours. However, it remains unclear if their relationship extends beyond the pictures. Rest assured, we are closely monitoring the situation and will provide you with a detailed update on the status of Larry's and Edith Kimani's relationship.
Larry Madowo Grandmother Funeral
During the solemn occasion of his grandmother's burial, Larry took the opportunity to deliver an emotional tribute in honor of his beloved late grandmother, Francisca Madowo. Throughout his successful career, she had been his staunchest supporter. Larry expressed that the day of her burial marked the saddest day of his adult life. Following the untimely passing of his parents when he was still a teenager, his grandmother stepped in and wholeheartedly took care of him, assuming the role of a caregiver and provider.
Larry Madowo Height
Larry possesses a tall and commanding stature, standing at an impressive height of 5 feet 9 inches (1.75 meters). This physical attribute contributes to his notable presence and charisma. Furthermore, when considering his weight, Larry maintains a healthy and balanced physique, tipping the scales at approximately 174 pounds (79 kilograms).
These measurements showcase his dedication to maintaining a fit and well-proportioned body, which further adds to his overall appeal and confidence. Larry's height and weight, combined with his charming personality and professional achievements, contribute to his captivating presence in the media industry.
Larry Madowo Wife, Wedding
While Larry Madowo remains unmarried, there have been speculations about his relationship status. In a recent development, Madowo shared a picture on social media featuring his long-time friend, Edith Kimani. This post raised curiosity among their followers and sparked rumors of a possible romantic connection between the two. Interestingly, this is not the first time Larry and Edith have been linked together.
Back on September 21, 2014, Larry and Edith went on a second date, enjoying a meal at Kenchic. What caught attention was that Edith paid for the outing, fueling further speculation about their relationship. Although the details of their bond remain private, it is evident that they share a close connection and enjoy spending time together.
The posts shared by Larry and Edith on October 31, 2021, and another one in 2023 added fuel to the ongoing rumors. These social media updates, which captured intimate moments between the two, seemed to hint at something more than just friendship. While they did not explicitly confirm their relationship, the posts generated excitement among their followers and triggered discussions about their romantic involvement.
As the media and fans closely follow their interactions, we eagerly await further developments to shed light on the nature of Larry Madowo and Edith Kimani's relationship. Rest assured, we will continue to monitor the situation and provide timely updates as new information emerges.
Larry Madowo Salary, Net Worth
In his role as a CNN International correspondent, Larry Madowo has established himself as a prominent journalist in the industry. Not only does he excel in his field, but he also enjoys the financial rewards that come with his success. It is reported that Larry earns an impressive average annual salary of $78,650 for his work at CNN.
This substantial income is a testament to Larry's expertise, dedication, and the value he brings to his role as a correspondent. With his captivating storytelling and insightful reporting, he has garnered a significant following and made a name for himself in the world of journalism.
Beyond his salary, Larry Madowo has also amassed a considerable net worth over the course of his career. With an estimated net worth of $1.3 million, he has demonstrated his ability to build wealth through his professional endeavors. This net worth is a reflection of his successful career trajectory, which has seen him work for prestigious media organizations such as the BBC and CNN.
Larry's net worth is not only a result of his impressive salary but also includes other sources of income, such as book deals, speaking engagements, and endorsements. Through his various ventures and entrepreneurial pursuits, he has been able to diversify his income streams and further enhance his financial standing.
It is worth noting that Larry Madowo's net worth and salary are subject to change over time, as they are influenced by factors such as career advancements, new opportunities, and market fluctuations. Nevertheless, his current earnings and net worth highlight the success he has achieved in his journalism career and serve as a testament to his talent, hard work, and dedication to his craft.
How old is Larry Madowo
Larry Madowo, born on 14 July 1987 in Siaya, Kenya, is currently 35 years old. As a prominent journalist and media personality, Larry has made a significant impact in the field of journalism at a relatively young age.
While at the age of 35, Larry has already accomplished a great deal, it is evident that he has a bright future ahead of him. His commitment to excellence and his continuous pursuit of knowledge and growth will likely lead to even greater achievements and contributions in the years to come.
Where is Larry Madowo now
Larry Madowo is currently working as a CNN International Correspondent and is also known for his role as the host of the African Voices Changemakers and Playmakers series. Since May 2021, he has been an integral part of CNN, where he continues to contribute his journalistic expertise and engage with global audiences.
Before joining CNN, Larry had a notable stint as the North America Correspondent for BBC from June 2020 to May 2021. During his time at BBC, he was based in Washington, District of Columbia, in the United States. In this role, he provided comprehensive coverage of North American affairs, offering insightful perspectives on various topics and interviewing influential figures.
With his current position at CNN and his previous experience at BBC, Larry Madowo has established himself as a respected journalist on an international level. His contributions to the field of journalism continue to make a significant impact, and he remains a prominent figure in the media landscape.
Where was Larry Madowo born
Larry Madowo, the renowned journalist, was born in Siaya, a municipality and the capital of Siaya County in Kenya. Siaya is situated approximately 74 kilometers northwest of Kisumu, a city in western Kenya. As an urban center, Siaya had a population of 33,153 in 2019, serving as a vibrant hub within the region.
Siaya municipality consists of five wards: Mjini, Siaya Central, Siaya East, Siaya North, and Siaya West. These wards are integral parts of the Alego Constituency, playing a crucial role in the local governance and representation of the area.
Larry's birthplace of Siaya holds significance in his personal history and connection to the local community. It is within this environment that he grew up and developed the foundations of his character and values.
Siaya's geographical location in relation to Kisumu and its status as the capital of Siaya County highlight its importance as a cultural, administrative, and economic center within the region. The municipality's vibrant atmosphere and diverse population contribute to its unique character and make it an integral part of the fabric of Kenya.
Larry Madowo's roots in Siaya have undoubtedly influenced his perspective and shaped his journey as a journalist. The experiences and connections he forged in this community have played a role in shaping his career and dedication to reporting on issues that impact the people of Kenya and beyond.
Is Victoria Rubadiri married to Larry Madowo
Despite the rumors and speculation, it is important to clarify that Victoria Rubadiri and Larry Madowo did not have a wedding ceremony as rumored. In April 2019, there were reports circulating that the two journalists had a low-key wedding at Marula Manor in Karen, Nairobi. However, these reports were false and lacked any substantial evidence to support the claim.
It is not uncommon for public figures like Victoria Rubadiri and Larry Madowo to face such rumors and speculations about their personal lives. These false reports often arise from misinterpretations or gossip within the media industry or among fans. In the case of Victoria Rubadiri and Larry Madowo, the rumors of their supposed marriage gained traction, leading to a brief period of confusion and curiosity among their followers.
Both Victoria Rubadiri and Larry Madowo have maintained their privacy when it comes to their personal relationships. While they may have a close professional relationship, there is no evidence to suggest that they are married or in a romantic partnership. It is important to rely on verified information from reliable sources rather than relying on rumors or hearsay.
As journalists, Victoria Rubadiri and Larry Madowo continue to excel in their respective careers, delivering impactful stories and engaging their audience with their insightful reporting. Their focus remains on their work and contributing to the field of journalism rather than any romantic affiliations.