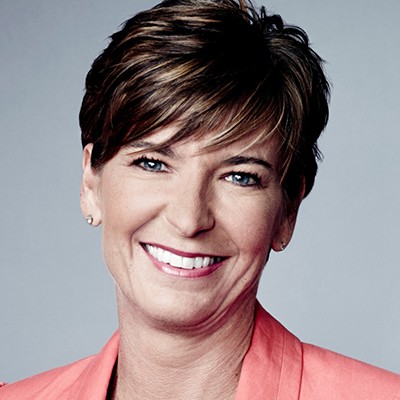 Becky Anderson Bio, Wiki
Becky Anderson is a British journalist and the host of CNN Connect as well as CNN Abu Dhabi Managing Editor. She is the anchor and host of International's flagship news and current affairs show, "Connect the World," for CNN. Before that, Becky served as a host of Business International for CNN along with Adrian Finighan.
Becky Anderson Age
Anderson is 55 years old and was born on Novermber 15, 1967 in Manchester, England. Moreover, Rebecca is of British nationality and belongs to the white ethnicity.
Becky Anderson Family
Becky was born Rebecca Anderson and raised by her beloved parents in England. Nonetheless, information about her parents or her siblings is not available at the moment. We are keeping our tabs on it and will then update you as soon as this information is available in our system.
Becky Anderson Education
Becky attended and graduated from the University of Sussex with a bachelor's degree in Economics and French. Furthermore, she holds a master's degree in Mass Communication from Arizona State University.
Becky Anderson Cnn
Becky joined CNN in 1999 and currently hosts, "Connect the World with Becky Anderson," which airs weekdays at 7:00 pm UAE time.  Moreover, she also serves as Managing Editor at CNN's Abu Dhabi bureau where she is based.
Becky covers important news stories, including the regional conflict between Iran and Saudi Arabia, the surging politico-economic trends in the Gulf, and the intensifying humanitarian crisis which comes from political instability in Syria and Iraq.
Additionally, she has had also interviews with top world leaders including  UN Secretary-General Antonio Guterres, Turkish President Recep Tayyip Erdogan, and Saudi Foreign Minister Adel Jubeir. Others include Qatari Foreign Minister Mohammed Al Thani, Emirati Foreign Minister Sheikh Abudllah bin Zayed as well as Israeli Prime Minister Benjamin Netanyahu.
Moreover, Becky has interviewed top celebrities such as Oprah Winfrey, Lady Gaga, Akon, Beyoncé, Brad Pitt, Jennifer Lopez, Tom Hanks, Andrew Lloyd-Weber, Juliette Binoche,  Javier Bardem, and George Clooney
Becky Anderson Abu Dhabi
Since joining, "Connect the World to Abu Dhabi,"  she has spent most of her time traveling across the Middle East. While there, together with her team, Becky's team was the first team to report from Riyadh after the ban on women driving was lifted.
In addition, Becky has covered special shows from Tehran, Jerusalem, Istanbul, as well as Beirut. She has covered a wide range of interviews, reports, and packages for CNN International.
Additionally, Becky has reported key stories including the anti-austerity riots in Greece, the Arab Spring uprisings in Tunisia, and the abdication of Pope Benedict XVI as well as the installation of his successor Pope Francis in Rome. Moreover, she was also the Olympic Games Correspondent in 2012  for CNN.
In addition, Becky gave live coverage of the birth of Prince George from London's Buckingham Palace. Furthermore, she played a lead role in CNN's extensive coverage of both the 7/7 attacks in London. She also covered the war in Iraq.
Becky also focuses on broadcasting the issues affecting women and young people around the world.  As a result, she has conducted interviews with senior Saudi officials on the country's women's rights record.
Moreover, Becky discussed with a panel of experts if the Arab Spring had brought about new opportunities for women and young people as part of Connect the World. Becky also hosted a live chat with NASA astronaut Karen Nyberg in 2013 when Karen was based on the International Space Station.
 Becky began her journalism career working as a print reporter with several business publications in Arizona. Moreover, she has extensive business journalism experience including posts with CNBC Europe, Bloomberg as well as the UK's ITN.
Becky Anderson's colleagues at CNN include:
Brianna Keilar – anchor
Sara Murray – political correspondent
Lynda Kinkade – anchor and correspondent
Erica Hill – fill-in anchor and national correspondent
Kara Scannell – correspondent
Kate Bolduan – anchor and host
Larry Madowo – international correspondent
Julia Chatterley – anchor and correspondent
Rosemary Church – international news anchor
Susan Hendricks – fill-in anchor
Robyn Curnow – news anchor, correspondent, and write
Nina Dos Santos – news anchor and correspondent
Erin Burnett – news anchor
Dana Bash – chief political correspondent
Becky Anderson Face
Becky is one of the top journalists and the most well-known female face in the journalism industry today. To become the best-known face in the field of journalism, Becky has worked with various stations including Bloomberg, CNBC, and currently CNN. Her most memorable international assignment includes her reporting from the US aircraft carrier the USS George H W Bush.
Becky Anderson Height
Becky appears to be a woman of above-average stature and stands at a height of 5 ft 7 in (1.7 m). Moreover, she weighs an average weight of 134 lbs (60.8 kg) and her measurement is around 32, 24, 34.
Becky Anderson Partner, Husband
Becky is an exceptional veteran journalist who has made her name in the journalism industry. However, she is single and loves to keep her love life away from the limelight. In case of any upcoming information in regard to Becky's marital status, we will keep you updated.
Becky Anderson Salary, Net Worth
She is one of the CCN's highest-profile anchors and receives a decent salary working as a host as well as the managing editor of the CNN Abu Dhabi bureau. Becky earns an average salary of $435,600 and has an estimated net worth of $6.3 million. Becky has accumulated her net worth mainly from her career in journalism over the years.
Is Becky Anderson Married
Becky is a happy single woman. However, there is no information about her being in a past relationship, but we will keep you updated in case of any emerging news.
Who Is Becky Anderson
Becky is 53 years old a British journalist and managing editor of CNN Abu Dhabi. In addition, she is the host of CNN's Emmy award-winning Connect the World. She has also worked with  Bloomberg, and CNBC before moving to CNN in 1999