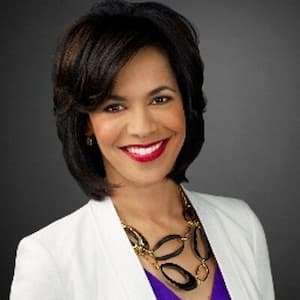 Fredricka Whitfield Bio|Wiki
Fredricka Whitfield is an American journalist and news anchor. With an illustrious career spanning across various media platforms, she currently assumes the crucial role of anchoring the weekend edition of CNN Newsroom in Atlanta, where CNN's world headquarters are situated. M
oreover, demonstrating her versatility and versatility in the industry, Whitfield seamlessly transitions into being a fill-in and substitute anchor for CNN's At This Hour, collaborating alongside the esteemed Kate Bolduan. As a consummate professional, she exudes a remarkable presence, commanding the attention of viewers and providing them with insightful and thought-provoking news coverage.
Fredricka Whitfield Age
She was born on May 31, 1965, in Burtonsville, Maryland. Whitfield is 57 years old.
Fredricka Whitfield Family
She is the daughter of American middle-distance runner and Olympian Mal Whitfield. Whitfield's dad didn't boast about being an Olympian and he went from being a boy with nothing, no material wealth whatsoever, to be highly successful.
In addition, her dad became a diplomat with the State Department after his Olympic career. He was a goodwill ambassador to countries such as Kenya, Uganda, and Egypt. She has a brother and a sister. Together with her siblings, Whitfield ran track and they all played tennis from an early age.
Fredricka Whitfield Education
She attended and graduated in 1983 from Paint Branch High School in Burtonsville, Maryland. Whitfield also graduated in 1987 with a bachelor's degree in journalism from Howard University's School of Communications. While in Howard, Whitfield served as a news anchor for the campus radio station WHUR. Additionally, she was selected as the Howard University School of Communications Alumna of the year in 2002.
Fredricka Whitfield Cnn
Whitfield joined CNN in 2002 and currently anchors the weekend edition of CNN News in Atlanta. she also serves with Kate Bolduan as a fill-in and substitute anchor for CNN's At This Hour. She has covered several major stories at CNN including the death of Ronald Reagan, the Persian Gulf as well as the 2004 devastating  Indian Ocean earthquake and tsunami.
Whitfield worked at WPLG-TV in Miami after college. She also worked in News Channel 8, Washington, KTVT-TV in Dallas, WTNH in New Haven, Connecticut, and WCIV in Charleston, South Carolina.
From 1995 to 2001, Whitfield worked as an NBC News correspondent and as an Atlanta-based correspondent for NBC Nightly News. She also worked as a morning and afternoon anchor and an assignment reporter for other news programs at NBC, including Today.
Colleauge;
Alisyn Camerota-anchor
Abby Phillip-senior political correspondent
Christiane Amanpour-chief international anchor
Don Lemon-co-host
John Berman-news anchor
Fredricka Whitfield Height
Whitfield is a woman of above-average stature and stands at a height of 5 ft 9 in (1.8 m).
Fredricka Whitfield Husband
Whitfield is married to the director of photography at The Atlanta Journal-Constitution, John Glenn. The pair tied the knot in 1999 and together they have 3 children. Her son was born on January 2005 while her set of fraternal twins, daughter Nola and son Gilbert, were born in November 2012.
Fredricka Whitfield Salary|Net Worth
Whitfield is a CNN anchor of the weekend edition of CNN Newsroom in Atlanta. She is also a fill-in and substitute anchor for CNN's At This Hour With Kate Bolduan. Whitfield receives an impressive salary of $768,890 annually and has an estimated net worth of $5 million.
Fredricka Whitfield Twitter