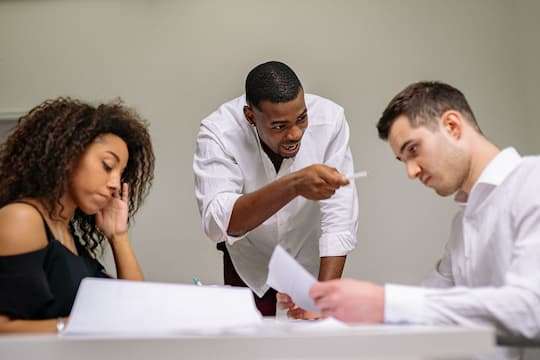 Introduction
When engaged in a disagreement, knowing how to win an argument can be a valuable skill. By employing effective strategies, you can articulate your viewpoint persuasively and reach a satisfying resolution. In this article, we will explore eight key subtopics to help you enhance your argumentative prowess.
Active Listening
Active listening is a fundamental component of effective argumentation. By fully engaging with the other person's perspective, attentively listening and acknowledging their viewpoints without interruption, you lay the groundwork for respectful and productive dialogue. This approach fosters mutual respect, creates an open atmosphere for exchanging ideas, and increases the likelihood of reaching a constructive resolution.
Constructing a Solid Case
To emerge victorious in an argument, it is crucial to construct a compelling case grounded in reliable evidence and logical reasoning. Start by clearly articulating your main points and then bolster them with concrete facts, relevant examples, and the insights of credible experts. This combination of well-structured arguments and compelling evidence strengthens your position, making it more persuasive and difficult to refute.
When presenting your case, consider the use of persuasive language and rhetorical techniques to engage and captivate your audience. Craft your arguments in a concise and organized manner, highlighting the most impactful evidence to support your claims. By doing so, you increase the likelihood of swaying opinions and winning over skeptics.
Remember, winning an argument is not solely about proving your point, but also about understanding and addressing counterarguments with respect and clarity. By anticipating opposing viewpoints and addressing them effectively, you demonstrate a strong command of the subject matter and showcase your ability to navigate complex discussions.
Refuting Counterarguments
To emerge victorious in an argument, it is essential to anticipate and address opposing viewpoints. By considering potential counterarguments, you can effectively prepare responses that refute them. While doing so, it is important to maintain a respectful tone and address weaknesses in opposing claims, bolstering the strength of your position.
When preparing counterarguments, focus on highlighting inconsistencies or logical flaws in the opposing viewpoint. By presenting well-reasoned responses, you demonstrate your ability to critically analyze and dismantle opposing arguments. Additionally, by maintaining a respectful tone throughout the discussion, you contribute to a more constructive and productive exchange of ideas.
Remember, the goal is not to dismiss or belittle the other person's perspective, but to provide well-supported counterarguments that strengthen your own position. By effectively addressing opposing viewpoints, you enhance the credibility and persuasiveness of your argument.
Emotional Intelligence
In the pursuit of winning arguments, emotional intelligence is crucial. It entails managing your emotions, understanding the feelings of others, empathizing with their perspectives, and employing emotional intelligence to diffuse tension and maintain a composed and logical approach. By mastering emotional intelligence, you enhance your ability to navigate arguments successfully and achieve favorable outcomes.
Persuasive Language and Rhetorical Devices
To maximize the effectiveness of your arguments, it is essential to harness the power of persuasive language and employ various rhetorical devices. By incorporating analogies, metaphors, and impactful vocabulary, you can captivate your audience and elevate the persuasive impact of your words.
These techniques not only engage your listeners but also make your arguments more memorable and persuasive, increasing the likelihood of influencing their beliefs and decisions. By mastering the art of persuasive language, you enhance your ability to convey your ideas effectively and win over others to your viewpoint.
Effective Questioning Techniques
Thought-provoking questions can be powerful tools in winning arguments and promoting critical thinking. By strategically posing challenging questions, you can expose weaknesses in opposing arguments and reinforce the strength of your own position. These thought-provoking inquiries compel the other party to reevaluate their reasoning and engage in deeper analysis, potentially leading them to reconsider their stance. By skillfully using questioning techniques, you can effectively undermine opposing arguments and strengthen your own position.
Strategic questioning allows you to guide the discussion in a way that highlights the flaws or gaps in the opposition's reasoning. By presenting thought-provoking questions, you compel the other party to critically evaluate their own arguments and potentially recognize inconsistencies or contradictions. This approach not only strengthens your own position but also encourages a more rigorous and thorough examination of the topic at hand. By employing strategic questioning, you can actively shape the course of the argument and increase the likelihood of persuading others to align with your viewpoint.
Maintaining Focus and Control
To effectively win arguments, it is crucial to stay focused on the main topic and avoid distractions. By maintaining a clear focus and disregarding irrelevant details or personal attacks, you can keep the discussion centered on the core points that matter.
This focus allows you to maintain control over the direction of the argument and ensures that your arguments remain strong and persuasive. If the conversation veers off track, it is important to steer it back to the main topic and refocus on the key issues being debated. By doing so, you can maintain the coherence and relevance of your arguments, increasing their impact and effectiveness in winning the argument.
Seeking Common Ground and Compromise
In certain situations, winning an argument involves finding common ground and reaching a compromise. Instead of solely focusing on asserting your viewpoint, strive to identify areas of agreement and seek solutions that satisfy the interests of both parties. By adopting a collaborative approach and actively working towards a mutually beneficial resolution, you can foster a more constructive and harmonious outcome.
This requires open-mindedness, active listening, and a willingness to consider alternative perspectives. By prioritizing cooperation and compromise over the need to be right, you create an environment that encourages productive dialogue and promotes positive relationships. Ultimately, winning an argument through finding common ground leads to more sustainable and satisfactory outcomes for all involved.
Conclusion
Winning an argument goes beyond simply defeating the other person. It involves presenting your case in a persuasive manner, while respecting differing viewpoints and aiming for mutual understanding. By applying the strategies outlined in this article, you can navigate disagreements with skill and attain positive outcomes in your discussions.
By mastering techniques such as effective communication, active listening, and empathy, you can foster a more constructive and collaborative atmosphere. This allows for the exchange of ideas, resolution of conflicts, and the cultivation of stronger relationships. Ultimately, winning an argument is about fostering understanding and finding common ground, rather than just proving oneself right.
Related Articles;
Nurturing Emotional Intelligence in Arguments
Unraveling the Influence of Cognitive Biases in Arguments
The Power of Logical Reasoning and Critical Thinking
Mastering Effective Communication Strategies
Mastering the Art of Persuasive Speaking and Debating
Conflict Resolution and Negotiation Skills