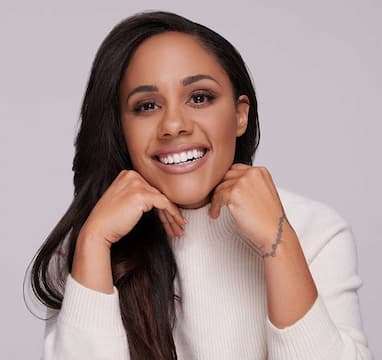 Alex Scott Bio|Wiki
Alex Scott, a former football player and current TV presenter, was born in London on October 14, 1984. Starting her football career at a young age, she joined Arsenal's youth academy at 8. Progressing rapidly, Scott made her Arsenal debut in 2002.
As a right-back, Scott had a successful career at Arsenal, winning multiple titles, including Women's Premier League, FA Women's Cups, and UEFA Women's Champions League.
Representing the England national team, Scott earned 140 caps, participating in UEFA Women's European Championships and FIFA Women's World Cups. Notably, she played a crucial role in England's 2009 UEFA Women's European Championship final and the 2015 FIFA Women's World Cup, securing a bronze medal.
Transitioning into broadcasting after retiring in 2018, Scott became a renowned pundit and analyst, featuring on TV shows, providing commentary for major events, and impressing with insightful analysis. Working for broadcasters like BBC and Sky Sports, she gained popularity.
With her achievements on and off the pitch, Scott is an influential figure in women's football. Advocating for gender equality, she inspires and empowers young athletes, earning respect within the football community.
Alex Scott Age
Born on October 14, 1984, in London, Alex Scott is currently 38 years old.
Alex Scott Parents
Alex Scott, originally named Alexandra Virina Scott, was born in Poplar, East London. Her parents played significant roles in shaping her diverse heritage. Her mother, Carol McKee, is of British descent with Northern Irish, English, and Lithuanian-Jewish roots. Meanwhile, her father, Tony Scott, hails from Jamaica, adding another cultural dimension to her background. This diverse mix of heritage and influences has contributed to Alex Scott's unique identity and perspective.
Alex Scott Dad|Father
Alex Scott's father, Tony Scott, has firmly denied allegations of violence towards her during her childhood. In an interview with the Daily Mail, he refuted claims of bullying and abuse, emphasizing his strictness instead of violence. When speaking on BBC Radio 4's Woman's Hour, Alex Scott explained that her motivation for addressing her father's behavior was to support her mother's journey towards liberation.
Alex Scott Mum
Alex Scott's mother, Carol McKee, and her father, Tony Scott, had a significant impact on her life. Unfortunately, Tony left Carol when Alex was just seven years old. Although specific details about Carol McKee's background are limited, her role as Alex's mother undoubtedly played a crucial role in shaping the football star's life and career. It is worth noting that Alex has spoken openly about the challenging experiences she and her mother faced, including instances of domestic violence, which further highlights the profound influence her mother has had on her life journey.
Alex Scott Brother
Alex Scott has an older brother named Ronnie, who chooses to keep a low profile. Recalling her childhood, Alex revealed that her father departed when she was just seven. The siblings recently showed solidarity by attending the Ethnicity Awards 2021 in London. Prior to her football achievements, Alex, along with her mother Carol, and brother Ronnie, resided in a council flat in Poplar, East London.
Alex Scott Education
Alex Scott received her education at Langdon Park School, a recognized Sports College that offered an ideal environment for nurturing her passion for football. Although specific details about her educational journey remain limited, attending a school with a specialized focus on sports education undoubtedly played a pivotal role in shaping her athletic development. This educational foundation likely contributed to her successful career in football, allowing her to build the necessary skills and knowledge to excel in the sport.
Alex Scott Bbc Sports
Alex Scott MBE, an esteemed English sports presenter, pundit, and former professional footballer, has made significant contributions to the sport. She enjoyed a successful career as a right-back for Arsenal in the FA WSL, earning 140 caps for the England national team and representing Great Britain at the 2012 Olympics. Notably, Scott scored the decisive goal in the 2007 UEFA Women's Cup Final, securing victory for Arsenal.
Recognizing her achievements, Scott was inducted into the English Football Hall of Fame in 2019. Currently, she serves as a pundit for BBC Sport and Sky Sports, lending her expertise to major tournaments such as the FIFA World Cup. Additionally, Scott provides analysis for the English Premier League, showcasing her deep knowledge and understanding of the game. Her contributions to football have earned her widespread recognition and admiration.
Fellow Journalist Include;
Jen Lada-versatile commentator
Debbie Antonelli– basketball analyst
Chris Walker-broadcaster and co-host
Adam Zucker-studio host
Kate Abdo– CBS Sports
Adam Zucker-sportscaster
Evan Washburn-sports reporter
Oguchi Onyewu-analyst
Carter Blackburn– play-by-play announcer
Jay Feely-analyst
Lesley Visser-sportscaster
Aaron West-host
Alex Scott Footballer
As a former professional footballer, Alex Scott excelled in the position of right-back, representing both Arsenal and the England national team. Her remarkable career included numerous triumphs with Arsenal, such as Women's Premier League titles, FA Women's Cups, and the UEFA Women's Champions League.
On the international stage, Scott's impressive record boasts 140 caps for the England national team. She made invaluable contributions to England's performance in UEFA Women's European Championships and FIFA Women's World Cups, notably reaching the final in 2009 and securing a bronze medal in 2015.
Throughout her journey, Scott consistently displayed exceptional skills, leadership qualities, and versatility, earning recognition for her defensive prowess, technical finesse, and astute tactical understanding. Her remarkable achievements and impactful contributions have established her as one of the most revered and influential figures in women's football.
Alex Scott Book
In her candid autobiography, published in 2022, Alex Scott bravely shares her journey as a survivor of childhood domestic abuse. Entitled "How (Not) to Be Strong," the book provides an intimate exploration of the impact of her tumultuous upbringing and the invaluable lessons she learned.
With a mission to raise awareness and support women affected by abuse, Alex's heartfelt memoir has received widespread acclaim for its courage, authenticity, and inspirational storytelling. It has become an essential read for fans and admirers of the former England Lioness, offering valuable insights into her remarkable resilience.
Alex Scott Arsenal
At the age of eight, Alex Scott joined Arsenal in 1992, initially playing as a striker or right winger before transitioning to a full-back position. She remained with Arsenal until the 2004-05 season, when she briefly moved to Birmingham City. However, due to Birmingham's financial difficulties, Scott returned to Arsenal for the 2005-06 season.
During her second stint at Arsenal, Scott played a pivotal role in the club's success. She helped them secure a domestic double of the FA Women's Premier League and FA Women's Cup. Additionally, she was a key figure in Arsenal's historic "Quadruple" season, where they won all of their trophy competitions, including the 2006-07 UEFA Women's Cup. In the final against Umeå IK, Scott scored the only goal in the two-legged tie, contributing to Arsenal becoming the first British side to win the competition. Throughout that season, she made 40 appearances and scored four goals across all competitions.
In the following seasons, Scott continued to make significant contributions to Arsenal. In the 2007-08 season, she appeared in 21 games and scored one goal. Overall, she made 35 appearances and scored three goals in all competitions. In the 2008-09 season, Scott played in 13 games, scoring once. Her total appearances for that season amounted to 24, with two goals to her name.
Alex Scott Relationships|Partner|Husband
Alex Scott values her privacy when it comes to relationships and is currently single. However, it is known that she had a romantic involvement with her former teammate Kelly Smith, who played alongside her at Arsenal.
Although Alex hasn't publicly addressed her sexual orientation, she did mention her past relationship with Kelly in her memoir. Recently, she openly described Kelly as her "first love" and spoke about the emotional pain they experienced when they parted ways. As fans and admirers, it is crucial to respect Alex's privacy and recognize her remarkable accomplishments and contributions to the world of football.
Alex Scott Salary|Net Worth
Unfortunately, specific details regarding Alex Scott's salary and net worth are not publicly disclosed. Nevertheless, it is important to highlight her remarkable achievements as a former player for Arsenal and the Lionesses, as well as her current role as a highly regarded TV broadcaster for BBC Match of the Day and Sky Sports.
Additionally, Alex has demonstrated her talent as an author by publishing a book. While the exact net worth figure remains undisclosed, it is estimated to be approximately 2 million dollars. It's important to note that these figures may have changed over time, so for the most accurate and recent information, it is advisable to consult the latest sources.
Is Alex Scott Married
Currently, there is no evidence or public information indicating that Alex Scott, the esteemed former footballer and sports analyst, is married. Throughout her career and public life, she has prioritized maintaining privacy regarding her personal relationships. No official reports or statements have emerged regarding her marital status.
As a revered figure in the football world, Alex has devoted herself to achieving remarkable success and making valuable contributions to the sport. Her unwavering dedication and passion for football have garnered widespread admiration from fans and colleagues. While her personal life remains undisclosed, it is essential to respect her privacy and acknowledge her outstanding accomplishments on the field.
Where Is Alex Scott
Alexandra Virina Scott MBE, born on October 14, 1984, is an English sports presenter, pundit, and former professional footballer. Mostly playing as a right-back for Arsenal, she had three spells with the club and a season at Birmingham City.
She represented England with 140 caps, including appearances at UEFA Women's European Championships and FIFA Women's World Cups. Scott transitioned into broadcasting, becoming a renowned pundit for BBC Sport and Sky Sports, covering major events such as the FIFA World Cup and advocating for gender equality. She was inducted into the English Football Hall of Fame in 2019.
How Old Is Alex Scott
On the 14th of October 1984, Alex Scott was born in London, marking her entry into this world. Presently, she has completed a remarkable journey of 38 years on this planet.