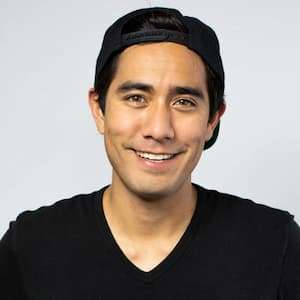 Zach King Bio|Wiki
Zach King is an American filmmaker, internet personality, and illusionist in Los Angeles, United States. He is popularly known for his magic vines. The magic vines are six-second videos digitally edited to look as if he is doing magic. In addition, Zack refers to his videos as digital sleight of hand.
He started posting videos on YouTube in 2008. In 2013, Zach began posting videos to Vine, and in 2016 Zach posted his first video to TikTok. As a result, he became the fifth most-followed individual on the platform where he has attracted over 69.2 million followers.
in 2010, Zach won the Hewlett-Packard commercial contest and got a trip to the red carpet at the London Film Festival. Additionally, he won YouTube's NextUp Creators contest in 2013. Notably, Zach and his wife Rachel Holm competed in the 28th season of the American reality game show,  The Amazing Race. However, they were eliminated during the 9th leg of the race  after they were placed 6th in the overall standings
Zach King Age
He was born on February 4, 1990, in Portland, Oregon, United States. Zach is 32 years old.
Zach King Parents
Zack was born and raised by his wonderful parents in Portland, Oregon. He is of half-Chinese descent from his paternal side, quarterly Austrian, and quarterly Nicaraguan descent from his maternal side. His mother homeschooled him together with his three sisters and adopted sister. His father on the other hand worked in their home office.
Notably, when Zach was seven, he made his first film using a home video camera. Moreover, at fourteen, Zach purchased video equipment including a Mac computer, cameras, and a tripod, and started making and editing videos.
Zach King Education
After completing high school, Zach graduated from Biola University in 2012 with a Cinema and Media Arts Major.
Zach King Tiktok
Zach posted his first video to TikTok on February 28, 2016. Formerly the video was known as Musical.ly which was him escaping a jail cell.  As of November 2021, he has accrued a following of over 66.3 million followers on TikTok, making him the third most followed user on the platform.
On December 9, 2019, Zach also posted the most viewed TikTok where the video was of him riding a broomstick, later it shows he was actually using a mirror. The video caption was They rejected my application to Hogwarts but I still found a way to be a wizard. Magnificently, the video received an estimated 2 billion views.
Over and above that, Zach build his website, FinalCutKing.com in 2008. His aim was to offer training and tips about using the editing software Final Cut Pro because he was unable to find tutorials for the software on the Internet.
He also began using his YouTube channel at the same time to give tutorials for visual effects using the Software. Zach started selling training seminars after gaining an audience for his website. He used the money to pay for his college. Additionally, Zach participated as a contestant on an episode of Viral Video Showdown that aired on Syfy in 2012.
Zach King Youtube
His official YouTube channel is, Zach King. He posted a video titled Jedi Kittens on YouTube which he produced with a college friend in 2011. Zach's video showed two cats fighting with lightsabers and it gained over a million views in three days. Moreover, it ended up gaining over 18 million views.
Additionally, his sequel of the video titled Jedi Kittens Strikes Back accumulated over 27 million views. His third part of the video which was posted in 2013, Jedi Kittens – The Force Awakens,  has gained over 28 million views.
In May 2013, Zach was named by YouTube as one of the 25 most promising young filmmakers in America. Moreover,  YouTube awarded King $35,000 and a trip to New York City for a four-day YouTube Creator Camp as part of its Next Up Creators contest.
Zach's submission to the contest was titled Contest Entry Gone Wrong. He appeared to dodge an assault by airstrikes in the video and ground fire as he pleaded his case to be selected for the YouTube award. Impressively, Zach has 12.2 million subscribers and 1.29 billion views within 350 videos as of 2022.
Zach King Vines
Zach created his account on Vine on September 9, 2013. This after he saw that many of his friends had an account on the social media website. He decided to create one Vine each day for thirty days after creating an account on Vine. Additionally, Zach decided to continue creating and posting new Vines after the success of his first few Vines.
On January 29, 2014, he appeared on The Ellen DeGeneres Show. He also made several Vines with the crew of the show. Previously, Zach created Vine videos for a living and worked out of his garage. Notably, he has been featured in multiple media outlets for his Vines.
Zach King Religion
When he was seven years of age his family converted to Christianity. Zach describes this as one of the greatest things that have happened in his life. He, therefore, considers himself a devout Christian and always tries his best to read parts of the bible when he wakes up every morning. Additionally, Zach is vocal about his faith and has even incorporated his religion into his videos. While at Biola University, a Protestant University he led youth groups at various Christian camps.
Zach King Height
He is a tall man in stature and stands at a height of 5 ft 8 in(1.72 m). He also weighs 75 kg (165.34 lbs) and his chest size is 38.
Zach King Wife
He is a married man to his wife Rachel Holm. Zach proposed to his girlfriend, Rachel while pretending to create a video advertisement for one of her brands. The couple tied the knot in 2014. Additionally, the pair have fostered a few children, including both an adopted and a biological son.
The amazing couple competed together on The Amazing Race 28 and placed 6th 1n 2016. They lived in an unincorporated community in Orange County, California, Rossmoor, as of 2017. Notably, both have adopted siblings, and this has inspired Rachel to work as a case manager for adoptive and foster care.
Zach King Net Worth
He is an internet personality, filmmaker, author, actor, and illusionist, best known for his fame on TikTok. Zach has a net worth of $3 million which he has accumulated from her many career path. He has won numerous awards including the 2010 Hewlett-Packard commercial contest, and the 2013 YouTube's NextUp Creators contest.
Where Does Zach King Live
Zack is an American internet personality, filmmaker, and illusionist. He currently resides with his family in Los Angeles.
Is Zach King Asian
He is an Asian descent and Zack is half Chinese on his paternal side, one-quarter Austrian, and one-quarter Nicaraguan descent on his maternal side. He was raised by his parents and his mother homeschooled him and his three sisters, including one adopted sister.  Additionally, his father worked in their home office.