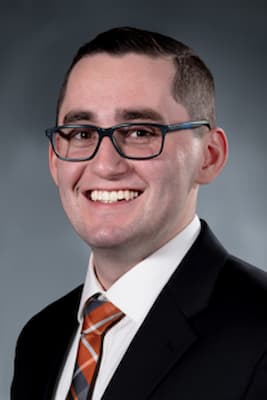 Colton Cichoracki Bio|Wiki
Colton Cichoracki is an American meteorologist at WILX in Lansing, MI. Formerly, he worked for ABC12 and KQ2 in St. Joseph, Missouri. Colton wanted to be a meteorologist since he was a kid.
Moreover, he couldn't be happier living his dream right here at News 10 in Lansing. Colton joined the First Alert Weather Team in November 2021 after spending a few years at WJRT in Flint/Saginaw.
Additionally, loves to be outdoors while not in the office and he is a big Detroit sports fan. He has lived in Michigan most of his life and enjoys forecasting all that Mother Nature throws at us in the Mitten state. Moreover, Colton is also a big fan of winter weather.
Colton Cichoracki Age
He was born in Port Huron, Michigan. Colton is around 32 years old.
Colton Cichoracki Family
He is a Port Huron, Michigan native. Colton loves his family to be away from the limelight. However, in case he discloses about his parents and siblings we will update it immediately.
Colton Cichoracki Education
Colton graduated in 2014 with an Associate's degree in Liberal Arts from St. Clair County Community College in his hometown of Port Huron through the Blue Water Middle College Academy. Furthermore, he received his meteorology degree(with a minor in mathematics) from Central Michigan University in 2017.
While at CMU, Colton was actively involved in the university's Student Chapter of the American Meteorological Society. He also served as president and vice president of the club. In addition, Colton also served as a Student Government Association House of Representatives, Leadership Safari Guide.
Colton Cichoracki WILX
Colton is currently working as a meteorologist at WILX News 10 in Lansing, Michigan since novermber 2021. Before moving to Lansing, Michigan, he worked as a Weekend AM Meteorologist and a Multimedia journalist at WJRT ABC12 News in Flint/Saginaw, Michigan from December 2019 to November 2021.
Before that, Colton was a Weekday AM Meteorologist, MMJ, and Assignment Editor/Producer at KQTV in St. Joseph, Missouri from April 2018 to December 2019. From February 2017 to April 2017, he worked as a weather intern for 9&10 News – Heritage Broadcasting in Cadillac, Michigan.
He began his media career working as a meteorology intern at WJBK-FOX 2 News located in the Detroit TV market during the summer of 2016. After months in the Detroit TV market, Colton moved to Mount Pleasant, Michigan where he served as an on-air meteorologist for CMU's student-run newscast, News Central 34. There, he used WSI MAX software to create weather graphics. Additionally, they previously used Weather Central and Fusion software.
His Colleagues:
Natalie Kerwin-sports reporter
Maureen Halliday-anchor and multimedia journalist
Ann Emmerich-anchor
Colton Cichoracki Height
He is a tall man in stature and stands at a height of 6 ft 0 in (1.83m).
Colton Cichoracki Wife
Colton is a renowned meteorologist in landing, MI, however, he has kept his love life private for the longest time. We will still keep checking and updating you about Colton's marital status once there is reliable information on our system.
Colton Cichoracki Salary|Net Worth
He is a great meteorologist at WILX News 10 in Lansing, Michigan. Colton earns an average salary of $134,780 annually. In addition, Colton has an estimated net worth of $785,670 which has accumulated from his work as a media personality.
Colton Cichoracki Leaving Channel 12
Colton is currently a meteorologist at WILX News 10 in Lansing, Michigan where he joined in Novermber 2021. There is no official information, however, that Colton is leaving Channel 12. Keep checking since we will be updating this section once we have any information.
Colton Cichoracki Twitter